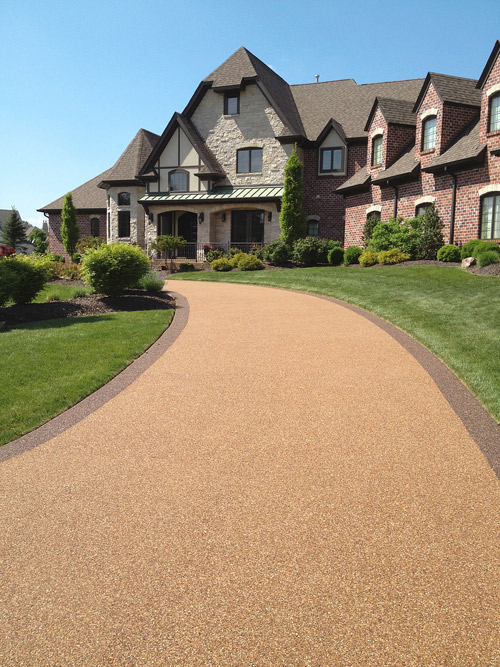 If you're looking to expand your repertoire beyond stamping, staining and coloring concrete, there is a host of surfacing alternatives — some old, some new — just waiting to be explored. One that first became popular in North America in the 1970s, and is still used throughout the world today, is epoxy-bonded stone, a system that typically combines a company's proprietary epoxy with river rock.
"This is a topping and a viable decorative alternative," emphasizes Drew Fagley, president of HoverTrowel Inc., a company that makes lightweight power trowels designed to help finish many of today's polymer toppings.
Some might know river rock by another name — Chattahoochee stone. "River rock was originally called Chattahoochee stone because it was mined from the Chattahoochee River," says Buster Osteen, product specialist and technical director for McKinnon Materials, a Florida-based company that makes and distributes River Rock flooring. He previously had worked for a sister company, which had its beginnings in the early 1960s, that mined and bagged its own rock.
Because of changes in environmental protection laws over the years, Osteen explains, "Rocks once mined in a river are now acquired through pit mining operations where river beds used to be." There are about a dozen such mines across the country today, he adds, that supply the specially washed and dried rock for the epoxy-bonded toppings.
"You need to use river rock that's been specially prepared," Osteen points out. "If the stone contains too much moisture it can cause the epoxy to white out."
A closer look at the systems
You can apply epoxy-bonded stone mixtures at thicknesses from 1/4 inch on an interior floor up to 2 inches on a driveway, depending on stone size and intended use. "The 3/16-inch diameter stones form a smoother surface because the fines in the mixture help to fill some of the gaps. There are slightly bigger gaps between the 5/16-inch stones," Osteen says.
Many manufacturers recommend sealing with epoxy if a sealer is desired. The surface is typically ready to walk on in 24 hours.
"These open-stone toppings had gotten a bad rap years ago being installed north of the Mason-Dixon Line because of freeze-thaw issues," Fagley says. But improved epoxy formulations available today and contractor awareness has this type of topping making a comeback for both interior and exterior applications, he adds
Wide variety of uses
Containing less epoxy than seamless toppings such as epoxy quartz and terrazzo, the epoxy-bonded stone mix is generally porous. "The size and spherical shape of the stones don't allow the mix to knit together and form a seamless topping," Fagley says. Consequently, there's no puddling on the surface from spills or splashed water. This makes the system ideal for pool decks and areas around fountains.
Other areas for potential use are retail stores, hotels, casinos, offices, showrooms, municipal buildings and other public areas. In the residential arena, contractors often install open stone systems in garages, basements, rec rooms, laundry rooms, sunrooms and patios. They aren't appropriate for medical facilities or restaurants because of the loose-knit surface.
Comparable in price per square foot to ceramic tile installed, epoxy-bonded stone could cost more or less depending on the thickness of the coating, the substrate and the prep work needed. Most commonly installed over a concrete substrate, it could top many surfaces depending on the manufacturer's recommendation. This can include tile, steel, asphalt, wood, fiberglass or even crushed stone.
Osteen says if a concrete surface is dirty, installers must pressure-wash it before troweling on the epoxy-bonded stone mixture. If algae are present, he recommends drenching the concrete with pool chlorine prior to pressure-washing. Although some manufacturers recommend scarifying the concrete prior to applying the topping, Osteen maintains grinding isn't usually necessary with McKinnon's system.
"If water soaks into the concrete you won't have problems with the epoxy adhering to it," he says. However, "If water beads up then you have to grind the surface so the concrete can absorb moisture. If you don't, the epoxy won't stick."
Prep before installing
Most companies offer standard colors of small rounded pebbles in 50-pound bags, with custom blends available on request. For variety, some companies include small angular rocks in a mix to enhance its colors. Others offer larger-sized pebble mixes.
To prepare for installation, contractors blend the stones in small batches and combine them with a company's specially formulated epoxy. The mixture then can be screeded onto the floor or troweled by hand or with a lightweight power trowel.
Osteen recommends raking out the mixture with a gauge rake, then troweling the surface in all directions of the compass. "If you only trowel east to west you'll leave gaps and open spots in the surface. Because of the stones' shapes, they won't bond with the stones above and below them," he says. For a nice, tight deck, he continues, keep 18-20 pounds of pressure on the trowel and keep it as flat as possible.
Logos or other designs made from stones of selected colors or sizes can be incorporated into the finished area. Most epoxy-bonded stone systems come with a warranty.
There are several companies that manufacture, distribute or install these systems throughout the country. Many have their own special niche and dealership or franchise opportunities that may appeal to decorative concrete contractors who also deal with epoxies.
Feels like carpet
Michael Sexton, vice president of sales for Stonecarpet, a company founded by his father 20 years ago in Des Plaines, Ill., says people who have experience with troweling can pick up this system with no problem at all. In fact, he adds, an experienced crew can install 8,000 square feet a day, making it ideal for renovation projects and commercial applications.
"Our product looks like carpet. That's how it got its name," he says about the Stonecarpet topping, made from 3-4 mm-sized quartz stones. "But it feels like you're walking on a rubber floor. The floor gives a little under your feet. It's a comfortable 'soft' walk."
Sexton says you can see his product in about 25 Harley Davidson showrooms as well as an assortment of auto dealerships. Churches and Stonecarpet are also a good mix because of the product's acoustical value.
As for maintenance, Sexton recommends using a shop vac in high-traffic areas. Owners should also steam-clean the floor once a year. "You don't need to mop or sweep," he says.
Because of the thickness of the epoxy and stone mix, it isn't necessary to topcoat the Stonecarpet after the initial installation. "But three to five years down the road, we recommend sealing the floor to protect the system on a long-term basis."
Bringing it home
Michael Masetta, vice president of Ohio Concrete Resurfacing and O.C.R. Products, the maker of Nature Stone flooring, says the engine that drives the family business in Bedford, Ohio, is the residential market.
Back in 1989, his father, Russell Masetta, a concrete contractor, concocted a specially blended epoxy and mixed it with river stone to transform an ordinary concrete patio into an eye-catching backyard asset. By 1992, he had dropped all other lines of resurfacing products, coined the name Nature Stone and just installed that brand. And the flooring has been going like gangbusters ever since.
"He brought (the epoxy-bonded stone system) to Ohio. Before that, it had been a Sunbelt product used around pools. My father built it out and made it his own," Masetta says. He eventually brought the product into garages and basements so he would have work year-round in the colder clime.
Bringing it indoors led to the discovery of more of Nature Stone's redeeming qualities. "Our in-house chemist and technical director tells us the R-value is two times better than carpet and 10 times that of tile," Masetta says. "And the porosity allows concrete to breathe so mold and mildew don't form."
As for acoustics, he adds, "We have put Nature Stone in gun ranges and the sound does not bounce all over the place."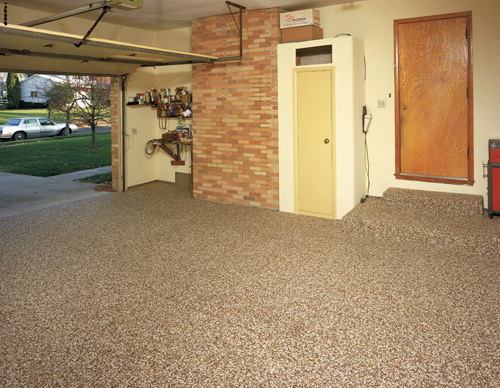 Outdoor man
In Jason Haywood's neck of the woods in Virginia Beach, Va., customers request the epoxy-bonded stone system more for coatings outside rather than inside. As the owner of Sierra Stone Hampton Roads, Haywood has been installing the epoxy-bonded stone system for four years. His background is in general construction.
"I'd say 99 percent of my work is exterior, with the top two areas pool decks and driveways," he says. Patios are a close third.
"Most of my jobs involve putting Sierra Stone on existing concrete that needs some help," Haywood says. "It's a better alternative to tearing out the concrete and starting over."
Maintenance of Sierra Stone involves an annual pressure-washing. Haywood also recommends a reroll of epoxy every two years or so.
Antiskid and aesthetics
Tim Hickey, president of CFC-Concrete Floor Coatings Inc. in Laguna Hills, Calif., has installed the Pebble Bond Epoxy System from Life Paint for almost eight years. He offers the service alongside other epoxy systems and concrete polishing.
Hickey says he gets few requests to install Pebble Bond Epoxy indoors. Most of his jobs involve pool decks, driveways and patios for investment homes. This is largely because of the product's reasonable price and quick turnaround.
One of its many advantages is slip resistance, he says. "You can broadcast dry silica sand over the installed pebbles to get an antiskid finish."
Still, Hickey says it's "more of an artistic coating." It's a quick fix you can use over unsightly concrete and it looks good. "I like it because it's so porous it allows water to drip down into it so you don't have puddling. And it covers up unsightly concrete. Basically, it's a quick fix and it's easy to put down."
Fast Fact
The epoxy-bonded stone system is also known in the United Kingdom as resin-bonded or resin-bound systems. Over there, resin-bonded involves scattering loose stone onto a coating of resin. In the U.S., resin-bound refers to aggregate and resin blended together prior to application.
www.hovertrowel.com
www.lifedeck.biz/PDFs/SpecSheets/PebbleBond.pdf
www.mckinnonmaterials.com
www.naturestone.com
www.sierrastone.ca
www.stonecarpet.com
Got more questions about your project?