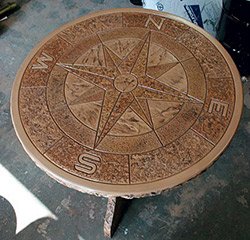 What if there was a way to take the leftover concrete from a job site and turn it into a moneymaker instead of throwing it away? Thanks to Proline Concrete Tools' Compass Rose Medallion Table Top Mold, there is.
Incorporating Proline's most popular medallion design, the Compass Rose, the tabletop mold is 4 feet in diameter and produces a 2-inch-deep tabletop.
The idea for the mold actually arose after the company heard of contractors using the standard Compass Rose stamp for tabletops. "Most of our line has been driven by the needs of contractors," says Tyler Irwin, sales manager for Proline. "It goes all the way back to our first seamless skin."
The intent behind the tabletop mold is for contractors to take the concrete they'd normally throw away, add polymer or fibers if necessary, and make a product out of it. However, the mold is starting to be used for more than just making something out of surplus materials.
"We've got a customer in Wisconsin that has been making the tabletops and selling them in the wintertime," Irwin says. "It's spawned a side business for some of the more aggressive, forward-thinking guys."
It's also spawning a whole new line of molds for Proline. The company is planning on introducing additional tabletop textures and patterns, as well as molds for fire rings.
www.prolinestamps.com
Got more questions about your project?