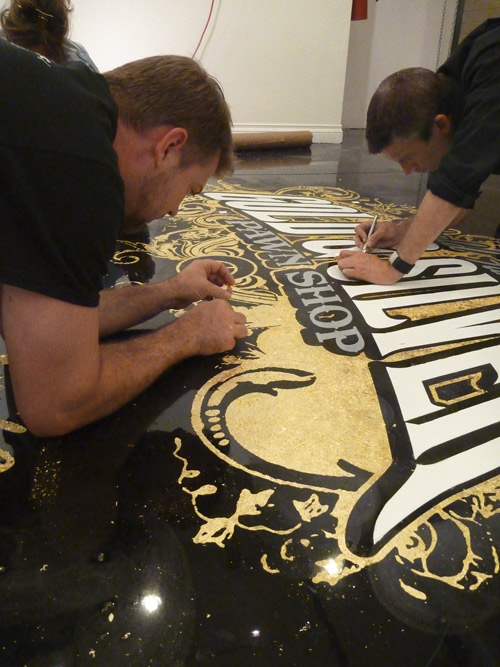 In a city where pawn shops are a dime a dozen, one pawn shop in particular is becoming legendary. Located off the Strip in downtown Las Vegas, the Gold & Silver Pawn Shop is the setting for the History channel's "Pawn Stars," a reality show documenting the antics of pawn business veterans Rick "The Spotter" Harrison, his father Richard "Old Man" Harrison, his son Corey "Big Hoss" Harrison and their family friend Austin "Chumlee" Russell.
This past July, the Gold & Silver Pawn Shop briefly closed its doors for a facelift — a new, shiny, black epoxy floor, complete with two attention-grabbing shop logos crafted from gold-foil flakes and white and grey-tinted epoxy.
Store owners assigned concrete coating manufacturer Classic Coatings Systems to take charge of the floor renovation. The company's owners, Carlos and Judy Casanola, then hired Ryan Samford, of Epo-Floors LLC, in Franklin, Tenn., to help with the floor installation, and asked designers Rachel Bruce and John Campbell of Arkansas-based FLOORmap Stencil Designs to develop vinyl stencils to create the floor's logos.
Judy says she and Carlos fell upon the job opportunity earlier this year when they decided to pay a visit to the Gold & Silver Pawn Shop while in Las Vegas for the World of Concrete trade show.
"When we saw their floor looking faded and dull, we asked to speak to the manager, Theo Spyer," she says. "It was hard getting through all the gatekeepers, but I was able to solicit them in an appealing way. I told them we'd like to take on a project that would make their floor look amazing and at the same time would benefit us from a marketing perspective. Theo loved the idea and asked us to come back out with a sample."
She says Spyer and the men of "Pawn Stars" wanted a smooth, seamless, durable floor that wouldn't fade, plus iconic logos that guests could photograph to preserve memories of their visit to the shop. Samford adds that the clients chose black for the floor so the white, grey and gold logos would really pop.
The Casanolas flew Bruce and Campbell out to their office in California, where they all worked on mock-ups for the epoxy floor and logos. Once the group had their clients' approvals, Carlos and Judy hired Samford to help with installation and tapped a Vegas decorative concrete company, Chief Concrete Inc., to prep the floor for their work.
"When Theo saw the logo sample, he was so excited that he asked if he could keep it," Judy says. "To this day, it's hanging on the store's wall by the entrance. He also asked us to make more samples that he could sell as souvenirs."
Working together as a team, the group of five began the job by putting down a primer, Classic Coatings Systems' CMB-416 Classic Moisture Block, followed by a coat of Classic Coatings Systems' CW410 High Performance Epoxy, a clear, 100-percent solids coating, pigmented with the company's Group 1 Color Pack 7000 Series in Jet Black. Samford says since joints on the floor still needed filling after the first coat, they applied a second, thick coat of the black-tinted epoxy.
To add a hint of gold sparkle to the floor (it is Las Vegas, after all), they broadcasted gold-foil flakes onto the second coat of black epoxy while it was still wet — a decision that led the team on a wild goose chase, Samford says. "The gold foil was not easy to find. We ended up going to every Michaels and Hobby Lobby in Las Vegas and basically buying out the city's supply of gold foil."
The logo, which spells out "World Famous Gold & Silver Pawn Shop," was in use by the shop before the renovation project. To create their 30-square-foot-sized versions, Samford reports, Bruce and Campbell enlarged a small image of the logo, from which they modeled custom vinyl stencils. They applied the epoxy mixed with Classic Coatings Systems' color pack product in Light Grey and Snow White through one set of stencils for the lettering, then sprinkled a thick layer of gold-foil flakes through a different stencil onto black epoxy to create the logo's splashy background image.
The team made two mirror-image logos — one in the front of the store and one in the back. In gold-foil flakes beneath the logo at the front of the store are the signatures of Samford, Bruce and Campbell, as well as Classic Coatings Systems' logo. Beneath the second logo are the signatures of the four men of "Pawn Stars," also in gold-foil flakes.
Since the gold-foil flakes left a rough, sharp texture on the floor, they had to sand the entire floor using palm sanders prior to applying the logos, Samford says. The group finished the job with two coats of the clear epoxy.
While no major hiccups interrupted the installation process, Samford says challenges did arise related to scheduling, his lack of experience with the chosen epoxy product and the unfamiliar territory of Las Vegas.
"Being in another town, it was hard to find all the right tools," Samford says. "I'm used to having everything in my trailer. Also, our clients said they didn't want us to work during the day because of the fumes, so we worked mostly at night. And I hadn't worked with this particular product before, so there was a learning curve there."
Judy says the finished floor does just what the clients and project team intended it to do — attracts fans and makes the store even more of a destination than it was before. The floor is located in the shop's primary showroom, which is used to display their featured items such as rare automobiles and antiques.
"After we completed the floor, I got a phone call from Theo, who said people were going crazy over it," she says. "He said they were taking photos while laying on the floor next to the logos, just like they were in Hollywood. He was so thrilled and thanked us for creating more exposure for them and bringing more customers through their store."
Project at a Glance
Client: The Gold & Silver Pawn Shop, Las Vegas, Nevada
Decorative Concrete Contractors: Ryan Samford, Epo-Floors LLC, Franklin, Tenn. | www.epofloors.com
Classic Coatings Systems, Corona, Calif. | www.classiccoatingssystems.com
Logo Designers/Installers: Rachel Bruce and John Campbell, FLOORmap Stencil Designs, Springdale, Ark. | floormapdesigns.com
Scope of project: A 1,200-square-foot epoxy-coated floor with two 5-foot by 6-foot, stenciled epoxy and gold-foil logos
Duration of project: One week
Materials Used: Classic Coatings Systems' CMB-416 Classic Moisture Block, CW-410 High Performance Epoxy, and Group 1 Color Pack 7000 Series in Jet Black, Light Grey and Snow White
Got more questions about your project?