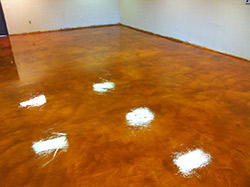 If you think clear sealers won't affect the color of concrete, you're right in some instances and wrong in others.
While it's true penetrating sealers offer invisible protection against moisture and some chemicals after they settle into a concrete slab, film-forming sealers — which are often used on decorative concrete — are a different story.
There are three primary types of film-forming sealers, all of which are available in water- and solvent-based versions. From the thinnest to the thickest — acrylics, polyurethanes, epoxies — these protective coverings can produce sheens of varying intensities that highlight the beauty of a decorated surface and often enhance its color.
Although high-gloss finishes, like the ones produced by solvent-based acrylics, are very popular because they really bring out the color, "you won't have that gloss forever unless it's maintained," warns Bart Sacco, president of Concrete Texturing Tool and Supply, in Scranton, Pa.
Film-formers with a low-gloss or satin finish, which appeal to folks who want a more natural look, usually don't require as much maintenance. "They tend to make colors more muted," says Daniel Owen, vice president of Arizona Polymer Flooring Inc. "That's because the coatings are flattened with fumed silica so you have tiny pieces throughout. You don't perceive it on lighter colors, but if you put it on a real dark floor, the result can be a whitish dull gloss."
Of the three film-forming sealers, acrylics are the most widely used indoors and outdoors, with solvent-based a popular choice among contractors.
Acrylics
As a general rule, solvent-based acrylics will enhance colors more than their water-based cousins, says Sacco. "I think that may change in the next year, year and a half, as manufacturers are changing some technology in waterborne products to make colors pop," he adds.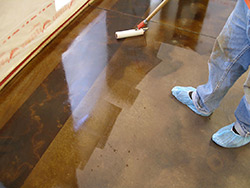 Gaye Goodman, managing partner of installation company Faux Real LLC in Albuquerque, N.M., says today's solvent-based acrylic sealers enrich hues beautifully. "I was doing a countertop where the client wanted a reddish terra cotta to match the tiles on the kitchen floor. But our colors were going toward orange," she says. "Even though we stained the counter three times with a mahogany, it still wasn't red enough."
She thought about trying a topical red dye but decided to see what an acrylic solvent-based sealer would do. "I brushed on the acrylic and wiped it off like you would a wood stain. As I was doing this, the color shifted from orange to a deeper orange-red. Even though it wasn't an exact match, it spoke to the other tiles in the room and blended well with it. It fixed the problem."
Goodman says a solvent-based acrylic sealer also will bring out warmer colors, such as yellow and orange, and increase color contrast. "If an area contains mottling between darker and lighter versions of the same color, that will be emphasized by any sealer, but more so by a solvent-based acrylic or epoxy sealer," she says.
Goodman says she predominantly uses solvent-based and water-based acrylics to seal her projects. Which one depends on the clients' taste.
"I usually will run a wet mop over the slab and tell them that's what it will look like if we go with a solvent-based sealer," she says. "It will be this dark but not this gray. It'll be richer but more golden than what you see now."
If her clients love the present color and don't want it any darker, or if they prefer the look of the dry portion of the floor over the wet, Goodman uses a water-based sealer topped with a protective acrylic polish or wax coat as the final finish. "The floor will scratch a little easier and the homeowner will have to reapply the final finish about once a year," Goodman says. But the color won't change, and a protective finish is easy to apply, dries in about an hour and will keep the floor looking like new for many years.
Polyurethanes
Polyurethanes are applied nearly twice as thick as acrylic sealers, forming a high-build protective film that enhances the color of stamped or exposed aggregate surfaces, as well as countertops.
According to Owen, his company's two-part Polyurethane 250, which he says "is our workhorse for guys doing architectural concrete," really stands out compared to solvent-based acrylic sealers. Its color-enhancing qualities are similar, he says, but "it's so much more chemical-, abrasion- and stain-resistant."
The product, which has been on the market about 10 years, bonds directly to the concrete. "It's very dependable and does exceptionally well on dense concrete. Its long-term performance is its biggest thing. It keeps the color protected and the gloss is easier to clean."
Floric Polytech offers a similar product called Polythane 250. Floric Polytech senior sales representative Josh Scott recommends two coats to really bring out the color and even out the finish. Polythane 250 is available in gloss or matte.
Epoxies
The thickest film-forming sealers are epoxies, and a 100 percent solid epoxy will darken a surface's color more than a solvent-based acrylic, says Owen. "Certain epoxies can have an amber hue to begin with," he says, "which can be an issue if it's used over light-colored decorative concrete. If you see yellow in the pail, it's going to show on the floor."
He says his company has two water-based epoxies. One is very clear and barely darkens the substrate, and the other will darken it substantially. "You can really see the difference in color if you use it over white or light tan," he says.
Scott says his company's water-based epoxies don't enhance colors and have less gloss than high-solid epoxies, urethanes or solvenated acrylics. Its high-solid epoxies, on the other hand, really spruce up the color and make floors shine. "The high solids," he cautions, "are not UV-stable and will amber up in the sun. They should be used as a topcoat indoors only."
Got more questions about your project?