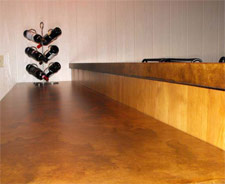 Here are brief descriptions of different sealing materials – and some of the qualifications and circumstances you need to consider when dealing with products in each category.
Penetrating sealers
Penetrating sealers are relatively inexpensive, easy to apply and leave no film to chip or peel. They fall into two categories, according to Jeff Girard: densifiers and repellants. Once a repellent such as silane, siloxane or fluoropolymer is applied, no other topcoat except wax can reliably be used over it, he says. Densifiers such as sodium silicates, potassium silicate and lithium silicates react with the free salt and lime in concrete to create a gel that fills the pores. "They leave no topical film build, so it is easy to get a real nice natural look," says Bob Chatterton of Surface 519, "but they are very dependant on mix design, need enough time to react with the concrete, and generally have poor to medium resistance to acids and oils."
Acrylics
Acrylics are easy to apply and relatively inexpensive. The bond well and offer some stain resistance. They will not darken the color of the concrete. They are not particularly durable or scratch-resistant, so they are often used as a base for other sealers, including wax or urethane.
Epoxies
Prized for good adhesion and excellent chemical (i.e., stain) resistance, epoxies are also very tough and quick curing. They are optically clear, high-gloss and build to a thick film, so their aesthetics appeal to customers who like the look of a glass surface. Two-part epoxies take some practice and experience to mix and apply to the best effect. Epoxies scratch easily, so they are often topped with a scratch-resistant urethane topcoat, although this combination increases cost and work time.
"Some people really like the thick build (20 to 30 mils) of a clear epoxy," says Doug Bannister, owner of The Stamp Store, based in Oklahoma City. "Epoxies are excellent at popping color.
"Epoxies are (also) self-leveling, so they compensate for flaws and unevenness in the surface. Sometimes color will settle more in low spots, so an uneven surface might have more color variation and interest, while the epoxy coating provides a smooth work surface."
Urethanes
Polyurethanes are usually more scratch-resistant and applied at a thinner film build, so they look a bit more natural, but they are not as stain-resistant as epoxy, according to Chatterton. Like epoxies, they must be measured and mixed precisely. They are also sensitive to surface preparation and may require priming. Water-based urethanes can be formulated at different gloss levels.
"Urethane won't show scratches, water spots or finger marks if you go with a satin finish," says Ben Ashby of Concrete Solutions. "We topcoat with a water-based urethane for the food preparation surface. Urethanes don't harbor bacteria. They are also easy to repair. If it gets cut you can sand the area and reapply the coating."
For high-volume operations, urethanes that cure by exposure to ultraviolet (UV) light are unrivaled for their near instantaneous curing, according to Bill York. However, the cost of the curing system, starting at $2,000, keeps them out of reach for many fabricators of kitchen countertops. York adds that a UV lamp comes with strict safety procedures that must be learned and followed. Some UV sealer products require a pass of the UV lamp 15 inches above the substrate to cure it, which can expose eyes and skin to extreme physical danger. Other UV-cured sealers allow the light to be used much closer to the surface.
Polyaspartics
These coating materials are relatively new to countertops. They offer adhesion equivalent to epoxy and scratch resistance equivalent to urethane, according to Bannister. They are extremely fast curing, so fabricators need to learn from suppliers how to work with them efficiently. Because of their relatively high price, they are used more often for commercial countertops, where fast turnaround is required. They are difficult, but not impossible, to formulate with less than a high gloss, Bannister says.
Nanotechnology hybrid
The newest entry on the countertop sealer market is a blend of acrylic and urethane, dubbed "nano" for its extremely small molecule size. These small molecules produce a tighter surface for high resistance to scratches and stains. The material is borne in an alcohol carrier, which emits an odor that dissipates in an hour or two, according to a manufacturer of the stuff.
Got more questions about your project?