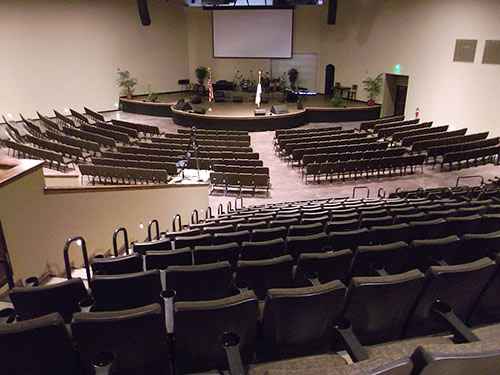 The new worship center at the Family Christian Center in Clermont, Fla., isn't your grandfather's church. It boasts sleek lines and contemporary design.
So when pastor Rick VanWagner and his wife, Beckee, contacted decorative concrete contractor Jim Price and his Longwood, Fla., company American Concrete Coatings, style was a consideration for them. The VanWagners were looking for a surface that would complement the building, as well as one that was easy to clean and maintain, a brilliant surface that would virtually last forever.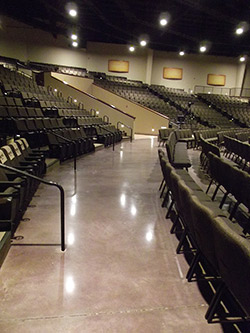 Price invited the couple to visit his showroom in Longwood, the floor of which is a dyed and polished concrete surface. According to Price, Mrs. VanWagner fell in love with the floor almost immediately.
Price explained the benefits a dyed and polished surface could provide. He explained how the shine comes from the diamond polishing procedure, unlike an epoxy surface where gloss comes from a resin. He went into detail about how the floor became densified and durable, noting that there would be no hydrostatic issues to contend with because the floor would breathe and that there were no sealers to delaminate or fog. (He had used Lythic Solutions' Densifier and Protector.)
He described how there would be no odors, an inherent problem with carpeted surfaces, and that the floor would provide good reflective light. Of course, he also made sure to add that the floor would be a breeze to clean and maintain for years to come.
But Mrs. VanWagner had already made up her mind. She was sold.
"She was very excited about the natural look you get with polished concrete," Price says.
The room seats about 1,400 people on stadium-style risers, which the VanWagners also wanted polished. Since the equipment used to polish the surface was large and bulky, getting it up to the top riser was going to be a challenge. The concrete runners were 60 to 80 feet long and only 3 feet wide. Price solved this issue in a unique way.
Using a lift, polishing equipment was hoisted to the top riser. Price and his team assembled several plywood ramps, and they worked down, from riser to riser, until they reached the main floor.
But that wasn't the only challenge the team faced.
"Your equipment only goes so close to the wall," Price explains. "Then you have to hand-grind your edges where it butts up to the wall." A crew of five people had to run hand grinders to make sure all of the surface, even up into the corners, was properly prepared.
There were a lot of risers to be done. It took nearly two weeks to get it right. Only then could the team tackle the main floor.
The grinding process started using Dynamic Diamond Tooling diamonds. Price explains that 30/40 metal-bond diamonds were used first, followed by 80/100 metal-bond, then 150 metal-bond.
The polishing team then switched to resin-bond diamonds, which continue to hone and polish the floor. This process begins with 50/100 resin-bond, then graduates from 200 resin-bond to 400, 800 and 1,500. At the 200 mark a liquid densifier from Lythic Solutions was applied using a hand pump sprayer. "The nanotechnology of the Lythic product fills in the voids of the concrete," Price says.
At the 400 mark, the color was applied. The A.C.C. team selected a Chocolate Brown dye from American Decorative Concrete Supply Co.'s line of AmeriPolish Polished Concrete Dyes. One coat of the dye was applied, then the floor was polished with the 800 resin-bond, followed by a final polish of 1,500 resin-bond.
When polishing after the dye, some color is lost, Price explains. "The color is a penetrating color, so not much color is removed. But the original color is darker because it is at 100 percent. When you run your diamonds over it, it does lighten it just a little bit because you are taking just a little bit of that surface off, and what is showing is the penetrated surface of the concrete."
Price took this into account. Before any work was done on the floor, his team carefully prepared a test sample so that the customer could see exactly how the finished surface was going to turn out.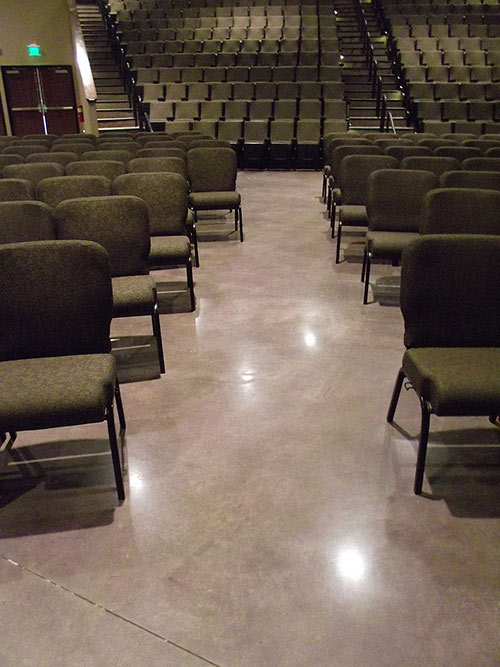 Price says preparing a test sample is critical to the overall success of a floor. "When you run your diamonds over it, the color of the floor does lighten a little bit because you are taking a little bit of the surface off," he says. He adds that this is why preparing a test sample is so important. "It's not like going to a paint store and picking out a color. You are going to get a certain amount of mottling, and every floor is different."
Price adds that doing a test sample will provide the customer with realistic expectations. He says it's a good way to establish a standard, especially on a floor as large as this one was.
Overall, the team spent two weeks on the risers, which took up nearly 6,600 square feet. The main floor itself was about 5,600 square feet and took the team another week to completely finish.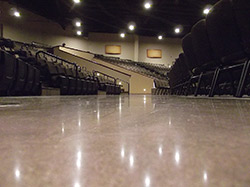 Price credits Dynamic Diamond Tooling with helping with the success of the floor. "Ron (Yagur, of Dynamic) was just super to work with. He came to the project with us and examined the concrete. He brought out several different grades of diamonds to determine which ones would be used for the project. He was right there with us, and during the course of the project he was there to offer suggestions."
The finished product speaks for itself, and the Family Christian Center now has a surface that will last a lifetime and is virtually maintenance-free. Price provided the maintenance crew at the center with instructions on how to keep the floor looking like a showroom for years to come, which includes regular maintenance using an autoscrubber and Lythic brand cleaner. This helps to protect the floor and keep it shiny. No wax is necessary.
Project at a Glance
Client: Family Christian Center, Clermont, Fla.
Decorative Concrete Contractor: American Concrete Coatings Inc., Longwood, Fla. | www.accoatings.com
Scope of project: Dyed and polished concrete for floor and risers in new worship center
Duration of project: Three weeks
Polishing Equipment Used: Planetary grinders: Dynamic Diamond Tooling 780, HTC 500; hand grinders: Makita GA7021, Makita 9227C; Blastrac 500 series shotblaster; Dynamic Diamond Tooling metal-bond and resin-bond diamonds
Materials Used: Lythic Solutions Inc. Densifier and Protector, American Decorative Concrete Supply Co.'s AmeriPolish Polished Concrete Dye in Chocolate Brown
Got more questions about your project?