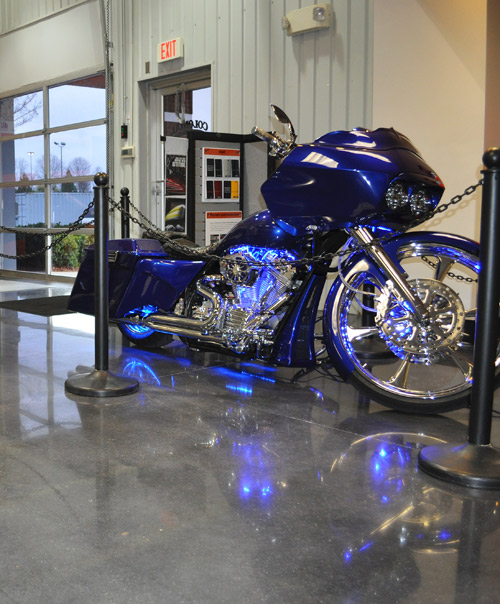 The Harley dealership is a leader in sales and rider satisfaction for the entire Mid-Atlantic region, and its headquarters reflects its ethics. The 31,000-square-foot facility boasts a modern industrial theme, with cathedral 25-foot ceilings and marblesque floors. "Just like Harley motorcycles, the Colonial Harley-Davidson facility is the best of American design and culture, seasoned with freedom and rebellion, showcased in a landmark building," declares the dealership's website.
CHD wanted a new and refreshing look for its service department to bring in the New Year. The floor had worn-out black and white vinyl composition tile (VCT) that was becoming too difficult to maintain. CHD wanted a floor that looked amazing to customers and was easy to care for.
Tire marks were a key issue, too. The polymers in VCT and the polymers in the tires are so similar that the tires were actually bleeding onto the VCT. Also, the kickstands on the motorcycles were scratching the wax and marring the tiles.
CHD had explored other options for the 765 square feet of flooring, looking at putting epoxy or a Line-X spray-on coating onto the floor. What sold this job for us was the cost comparison of polished concrete to other options, the longevity of our company relationship with CHD, the easy maintenance of our floor, and our strong marketing and sales department.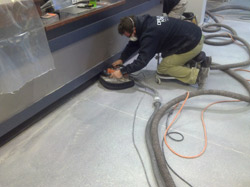 The job needed to be completed over the first three days of the New Year when CHD was shut down for inventory. It was through the dedication of our employees, who know that customer service is everything in our business, that we were able to convince them to work on New Year's Day.
We removed the VCT with a Panther tile remover from National Flooring Equipment Inc. It took about 2 1/2 hours to remove the tile.
After the tile was removed, we began the grinding and glue removal process, starting with 80-grit double-segment tooling, along with sand cast onto the floor.
All of the tooling and equipment that were used on this job came from HTC America Inc. We utilized our HTC 800 Classic three-headed grinder, along with our HTC 5 iAD vacuum system and separator. We used our second HTC 5 iAD vacuum to help us complete the edge work by hand, for which we used a Makita 5-inch variable-speed hand grinder.
Within a couple of hours we were done with the metal-bond grinding and moving into the polishing stages. We polished the floor to 400 grit, and after taking extreme care to protect the wall murals and counters with plastic, we applied a H&C Acetone Dye Stain in Spanish Dagger. We recommended the color based on our inquiry about what the customer was looking for in appearance, and we felt like it would best mask any ghosting left from the VCT removal.
Once the floor was dry we dry-mopped the floor with microfiber to remove excess dye residue, and we continued polishing to 1,500 grit.
After the polishing was complete, we gave the floor a good cleaning with an autoscrubber and buffed using the HTC 27-inch Twister pad system. Finally, two coats of Decorative Concrete Institute Polish Guard were applied to the floor. We then installed vinyl cove base to the walls.
CHD staff are blown away with the results we were able to achieve. Colonial's perspective is that Harley people are considered tough and rugged and their bikes usually reflect their distinct persona — the polished concrete floor, with its distinct look and character, fits this philosophy. The consistency of the polished floor maintains the desired upscale, high-profile appearance, as opposed to the inconsistent appearance of the VCT during the cycle of stripping and waxing.
Nathaniel Miller, CHD service manager, says that maintenance to retain a clean and shiny appearance (just dust-mopping and damp mopping daily) has been easier than they expected. In general, he says that the floor results were above and beyond their expectations.
We are meeting with them to spec and price their engine "Dyno Room" — they want the same process and color for this area. Also, many of CHD's customers have asked about the floors and have started contacting DreamKrete about doing their personal garages.
Project at a Glance
Client: Colonial Harley Davidson, Prince George, Va.
Contractor: DreamKrete, Richmond, Va. | www.dreamkrete.com
Scope of project: Remove vinyl composition tile and replace it with polished, dyed concrete that would be easy to care for and amazing to look at.
Duration of project: Three days, including New Year's Day.
Materials Used: National Flooring Equipment Inc. Panther tile remover, HTC 800 Classic three-headed grinder, HTC 5 iAD vacuum system and seperator, Makita 5-inch variable-speed hand grinder, H&C Acetone Dye Stain in Spanish Dagger, HTC 27-inch Twister Pad system, Decorative Concrete Institute Polish Guard.
Got more questions about your project?