The Decorative Concrete Hall of Fame is pleased to honor its inductees for 2012: Mike Archambault, Brad Bowman, Clark Branum and Joe Nasvik. Continuing the tradition of welcoming its newest members at the annual Concrete Decor Show, the Hall of Fame announced the group at the 2012 show, held in February in San Antonio, Texas.
The Decorative Concrete Hall of Fame was established to recognize individuals and companies whose contributions have impacted the future of decorative concrete, both as a business and an art form. The new inductees were chosen by Hall of Fame members and the owners and staff of Concrete Decor parent company Professional Trade Publications Inc., which manages the Hall of Fame.
These four exceptional individuals have gone above and beyond in their careers, helping the decorative concrete industry thrive through their achievements and commitment to excellence and innovation.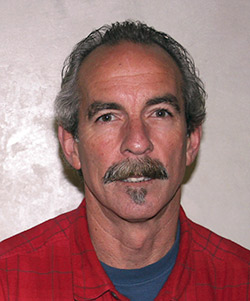 Mike Archambault
Installer and educator Mike Archambault of Paris, France, spent the first phase of his career in Houston, Texas, where he owned Patterned Concrete of Houston and Patterned Concrete Industries and served as an active board and committee member for the American Society of Concrete Contractors and the American Concrete Institute.
Three decades later, the 55-year-old is still making strides in the decorative concrete industry as co-owner of the French manufacturer and distributor Moderne Methode and training school Béton Academy. He is playing an important role in the introduction of American decorative concrete materials and practices to Europe.
After selling his shares of Patterned Concrete of Houston and Patterned Concrete Industries in the mid-1990s, Archambault took an opportunity to assist a contractor in the United Kingdom, beginning his many years of serving the European market. Next, he worked on decorative concrete for Disneyland Resort Paris.
He spent three years as a Paris-based consultant for L. M. Scofield Co. before opening his own consulting and installation company, Michael Archambault Béton Decoratif.
In 2006, he joined Elvepro, a product distribution company owned by Frederic Ljung. He and Ljung renamed the company Moderne Methode and became its co-owners, along with Stanley Williams, a Florida-based doctor and investor. Archambault's company has since made its mark in France as a product manufacturer and distributor.
In 2010, Archambault and Ljung opened Béton Academy, a government-recognized training school, through which they began offering workshops. The school teaches students about a wide range of decorative concrete products and tools and has hosted a total of 68 hands-on workshops to date.
The humble-natured Archambault has found great satisfaction in teaching decorative flatwork and colored concrete techniques to installers around the world. His first teaching experiences were with Mexican crews in Texas, and he later educated workers in Europe, Africa and Asia through his consulting work for L. M. Scofield. Now, Archambault spends the majority of his time coaching three young men who work for him at Moderne Methode. His son, Jimmy, is following in his footsteps as a decorative concrete installer based in Bozeman, Mont.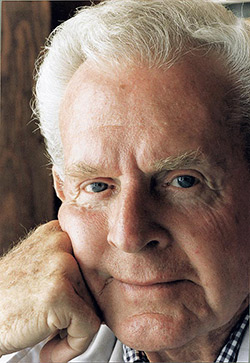 Brad Bowman
When Brad Bowman passed away in 2000 at age 90, the decorative concrete industry lost a legend. Bowman, the inventor of stamped concrete and co-founder of Bomanite Corp., is often referred to as the "father" of the modern industry.
A native of Carmel, Calif., Bowman began his career constructing impressive exposed-aggregate concrete walls and slabs. In the late 1940s, he began experimenting with ways to add patterns to colored concrete flatwork in an efficient manner. First, he imprinted individual brick patterns onto concrete using wooden blades. Then, he developed the first platform concrete stamps that imprinted patterns of multiple units, such as bricks. He made these stamps first out of wood, then sheet metal, and finally cast aluminum.
Bowman's invention spurred an industry-wide interest in textured decorative concrete and allowed contractors to explore their own creative ideas to a greater extent. Many of his patterns, such as brick, cobblestone and fish-scale, are still in widespread use today. After his initial invention, he continued to revitalize the concrete stamping process. For instance, instead of imprinting a stamp across an entire surface repetitively, he'd mix up stamps, and he'd depict stones of various sizes to create a more natural look.
His original stamping process and tools were patented as the Bomanite process for coloring and imprinting decorative concrete surfaces, and in 1970, he formed Bomanite Corp. with three business partners. They began franchising contractors across the United States to install stamped concrete using his patented process. Bowman's partners later bought him out, and after working as a part-time consultant for the company for several years, he cut his ties completely and retired to southern Utah, where he lived on a 160-acre ranch in the heart of the state's Red Rock Canyon Country.
Bowman tinkered with creative projects well into his 80s, despite his declining health. In 1998 at age 87, construction was completed on the Kiva Koffeehouse in Escalante, Utah, a restaurant, cabin and gift shop made mainly from logs, stone and glass that Bowman first conceptualized in 1990.
Bowman served as a valuable mentor and inspiration for other decorative concrete artisans, and his legacy lives on in the many stamped concrete projects that can be found around the globe. His daughter, Barrie Ence, and granddaughter, Sara, live on the ranch and run the family-owned Kiva Koffeehouse.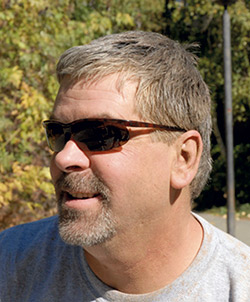 Clark Branum
Clark Branum is a 30-year veteran of decorative concrete installation as well as one of the industry's most phenomenal educators. He created valuable training programs for the Brickform brand and L. M. Scofield Co. and regularly shares his knowledge of decorative concrete as a lecturer and speaker.
Branum, 55, launched his career in the Seattle area. He spent 24 years working as a flatwork finisher throughout the Northwest and in Alaska. During his time as Brickform technical director, he developed and conducted the company's distributor and contractor training programs in the United States and abroad. He went on to develop L. M. Scofield Co.'s ground and polished concrete training programs.
Currently, Branum is the UltraFlor program manager and trainer for Diamatic USA, a lecturer for the Concrete Industry Management Program at California State University, Chico, a regular World of Concrete show speaker and a participant in the selection committee for the World of Concrete trade show's Artistry in Decorative Concrete demonstration.
He also serves on the boards of directors for the American Society of Concrete Contractors Decorative Concrete Council as well as on Hanley Wood's World of Concrete Education Advisory Committee. Additionally, Branum is a member of the American Concrete Institute and serves on two ACI committees: 601-D Certification Committee for Decorative Concrete Finishers and C-310 Design and Construction Practices for Decorative Concrete.
Throughout his career, Branum has worked on notable international decorative concrete installation projects, including Hong Kong Disneyland and The Venetian Macao in Macau, China. As a constant exhibitor of intelligence, enthusiasm and professionalism, he has served as a mentor and inspiration for many aspiring decorative concrete artisans.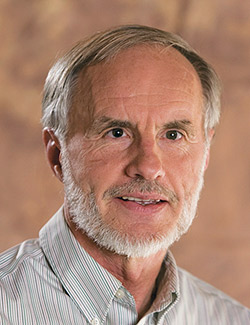 Joe Nasvik
Joe Nasvik comes from a family of concrete constructors and has made many contributions to the decorative concrete industry as an installer, business owner, writer and editor. Led by his strong desire to learn, he signed on as a Bomanite franchise owner in 1974 in Chicago, where he pioneered a number of innovative concepts.
With help from petrographer Bernie Erlin, of The Erlin Co., in Latrobe, Pa., Nasvik learned how to manage freeze-thaw problems in stamped concrete surfaces. He was the first to use retarding agents to set up a process that allowed workers to stamp larger surface areas per day — a practice that's now in common use and is referred to as step retardation. Experimentation with admixtures played a key role in his projects as well. When superplasticizers first became available, he used them to reduce the water-cement ratio of his mixes to produce more durable concrete.
Nasvik took his marketing efforts a step ahead of his competition while working as a Bomanite contractor. He and business partner Jeanne Fields launched full-fledged marketing programs targeting architects, engineers and landscape architects, which was an unusual move for a decorative concrete contractor at the time.
In 2000, Nasvik began his tenure at Concrete Construction magazine, where he now serves as senior editor. Through his informational articles, he teaches other contractors how to solve problems, understand their industry better and hopefully become more financially successful.
Nasvik is also the man behind Concrete Construction magazine's Artistry in Decorative Concrete exhibition, a staple of the World of Concrete trade show that allows artisans to demonstrate their techniques. Additionally, he's served as a valuable asset to the American Concrete Institute for his contributions to the architectural guidelines for decorative concrete, which the institute expects to publish this year.
Nasvik's success can be attributed not only to his technical skills in decorative concrete installation, but to his natural ability to develop fruitful relationships with other professionals in the industry. His willingness to learn has never waned, and he continues to improve the quality of work produced in the industry by sharing his vast knowledge with others.
Got more questions about your project?