This recipe demonstrates a great way to achieve an incredibly striking, elegant effect with the simplest of ingredients.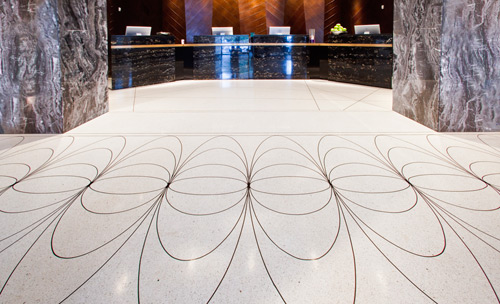 Linear Thinking
Artistic Surfaces – Pompano Beach, Fla. – www.artisticsurfaces.com
For an upscale hotel like the W in Miami Beach, elegance is anything but optional. This effect, using incredibly simple ingredients, provides a deliciously luxe look for the lobby.
Ingredients
Dry-pack mudbed: Key Resin Moisture Vapor Treatment #635
Cement-IT Western White portland cement
Klein and Co. Plex-A-Bond acrylic additive
Coarse sand
Key Resin Epoxy Terrazzo #108, white
Manhattan American Terrazzo Strip plastic divider strips (3/8 inch by 1/8 inch), black
Continental Terrazzo Supply marble chips, China White in size 0 and 1
Burnett Athletics Plus 5 Field Marker white marble dust
Johnson Wax Professional Plaza Plus sealer
Special equipment used: Water-jet cutter, Blastrac 1-15DS Global shotblaster with S-460 steel shot, paint roller with at least a 1/2-inch nap, Terrco Model 3100-3P floor grinder, 24-grit diamond segments, 80-grit and 120-grit carbide stones
Directions
As this recipe is simple black and white, it works best when creating line art. Using a water-jet cutter, cut out a set of full-size templates for your design.
Shotblast the floor with Blastrac 1-15DS and S-460 steel shot to open the surface of the concrete.
Clean floor thoroughly with a vacuum.
Mix the Moisture Vapor Treatment and put down one coat of the product with a paint roller.
Mix the dry-pack mudbed using the portland cement, coarse sand and Plex-A-Bond, at a ratio of 4 parts portland cement to 1 part each of sand and Plex-A-Bond. Screed the mixture to the proper elevation.
Trace design on the mudbed using your template, and then affix your divider strips along the lines of the pattern.
Mix Key Resin Epoxy, which comes as a two-part system, at a 5:1 epoxy-to-hardener ratio, and mix for 5 minutes.
Add 25 pounds of Plus 5 as filler to help stiffen the epoxy mix. Let mix for 2 minutes.
Add a batch of chips – half of them size 0 and half size 1 – and let mix for 3 more minutes. Pour mix on the floor and spread with a hand trowel.
Let cure for 10 hours before beginning grinding and polishing.
Start with a rough grind (dry or wet) using the 24-grit diamond segments. Make sure to make an even number of passes so the floor will be even and flat.
Next, a medium grind with 80-grit carbide stones.
Finally, a fine grind with 120-grit carbide stones.
Mop the floor with clean water after the fine grind. Rinse and repeat a couple of times.
Allow the surface to dry for 4 hours before applying a coat of sealer with a paint roller.
Got more questions about your project?