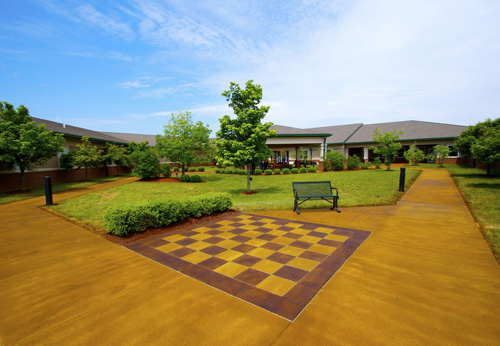 Volunteers from the ASCC Decorative Concrete Council traveled to Hanson, Ky. to work on the hardscape of what is to become a therapeutic garden at the Ballard Western Kentucky Veterans Center. Three students from the Concrete Industry Management program at Middle Tennessee State University, Murfreesboro, Tenn., assisted on the project.
The idea to convert an underutilized outdoor space at the Center into a therapeutic garden came from Sandy Henderson, Greenville, S.C., whose father was a resident at the home. "My father really enjoyed spending time in the outdoor space," says Henderson. "However, many of the residents did not use the space because of the strong glare off of the concrete paving." Henderson's search for a solution led her to the DCC.
The answer was to stain the existing concrete a darker color. The final project included cleaning and staining about 5,000 square feet of existing concrete, saw-cutting and staining a compass rose emblem depicting military and patriotic icons, and sawcutting and staining a large checkerboard.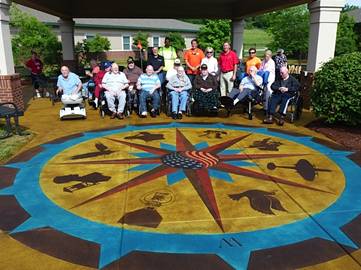 The space will receive additional landscaping and activity areas to convert it into a therapeutic garden.
The project was managed by Todd Scharich, decorative concrete specialist for the American Society of Concrete Contractors. The DCC is a specialty council of the ASCC. Planning and project coordination was spearheaded by Chris Klemaske, T.B. Penick & Sons, San Diego, DCC council director; and Jim Mullins, Butterfield Color, Indianapolis, and Paul Schneider, Patterned Concrete of Cincinnati, DCC directors. Other on-site volunteers were Andy Espinoza, T.B. Penick & Sons; Russell Mackenzie, Belarde Co., Woodinville, Wash.,; Neil Roach, Creative Construction by Design, Danville, Ill.; and Wyatt Brandt, Ryan Jessie and Mary Michael Jett, all of Middle Tennessee State University.
Companies supplying tools or materials were Butterfield Color, Euclid Chemical Co., Decorative Concrete Resources (Saginaw, Mich.), Patterned Concrete of Cincinnati, and Surface Gel Tek. Design services were provided by Zone 7 Landscaping, Seneca, S.C.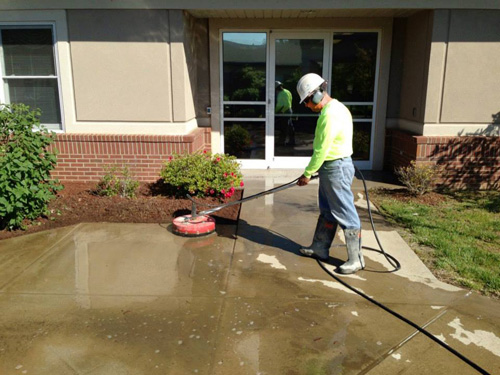 Got more questions about your project?