There are millions of square feet of colored and stamped concrete around the country that will be celebrating their 10-year birthday in 2012. Much of it is showing the wear and tear of a decade of use and desperately needs some touch-up. A decade of little to no maintenance, weather, and daily wear has not affected the core strength of the concrete but has taken the shine off the penny. This scenario is quite common, and it fosters a lot of questions regarding what can be done to bring the colored or stamped concrete back to life. So for those who want to rejuvenate, revive, restore, restain or recolor, solid-color stains are just the ticket.
Most types of stains for concrete are translucent. The color produces a marbled finish, with the base color of the concrete playing a role in the final shade. That works great when you are coloring gray concrete and want to have all that variegation and marbling, but not so good when you want to refresh the monotone color of integrally colored concrete or stamped concrete.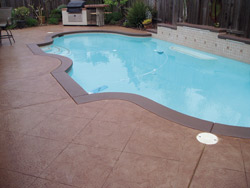 The market to revitalize and refresh old concrete is where solid-color stains have found their niche. They work like traditional stains and penetrate into the concrete, but unlike traditional stains, they produce an opaque finish.
The first solid-color stains hit the market in the 1990s. Not readily available at first, they were regional niche products used by only a handful of installers.
When decorative concrete went mainstream in the early 2000s, so did solid-color stains. Marketed hard by a few companies, the products went from regional awareness to national acceptance very quickly. Over the last 10 to 15 years, the market has grown and so have the number of manufacturers.
Advancements in technology and formulation have created newer solid-color stain systems that have fewer components, are easier to mix and apply, and have better long-term durability. But almost all solid-color stains are applied similarly and perform very well.
A solid-color stain might be described as a cross between a coating and a stain, with the opaque solid color reminding one of a coating and the penetrating properties being more like a stain. But don't be fooled. Solid-color stains are all stain. Their ability to penetrate into the surface and provide a clean solid color without forming a film is what makes them so powerful.
Most solid-color stain systems come as multipart kits that are mixed on-site. They contain a resin backbone that acts as a binder, encapsulating the color and gluing the system together in the concrete substrate. Application with a sprayer or soft brush is most common, allowing for high coverage rates and consistent color.
As with any stain, surface preparation is critical to long-term performance. Typical surface preparation prior to application ranges from power washing to chemical stripping. Once again, the most critical element is the ability of the stain to penetrate into the surface of the concrete. Any type of contamination, such as paints, sealers, cures, grease, oil or foreign material, will prohibit penetration and lead to premature failure of the stain.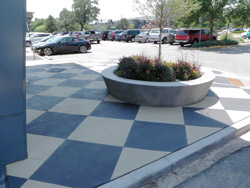 In my opinion the final look of solid-color stains is what makes them such good candidates to recolor old or worn colored or stamped concrete. Most of the solid-color systems on the market will very quickly (in a matter of days or weeks) take on a flat or matte appearance that very closely resembles natural concrete.
This natural look makes it hard to differentiate between integrally colored concrete and concrete that has been treated with properly applied solid-color stain.
While nothing is as good as the real thing, a solid-color stain is the next best thing when it comes to restoring the color of old or worn concrete. It doesn't even have to be a bright or exotic color, as gray is one of the most popular colors of solid-color stain sold today. I encourage you to do some research and learn more about how solid-color stains can recolor the concrete in your life.
Got more questions about your project?