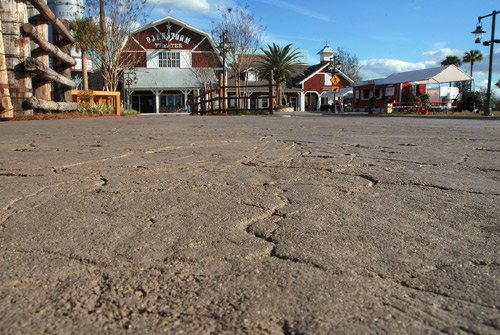 The "Florida cracker" cowboy rode off into the sunset long ago. But thanks to a design team's partnership with decorative concrete company Edwards Concrete, residents of a central Florida community can immerse themselves in the region's frontier days.
The builders of Brownwood, the latest addition to the Florida boomtown known as The Villages, called on Edwards to help give the new Brownwood town center the look and feel of a Florida cracker settlement of the 1800s.
Thus, you'll encounter Paddock Square, an open area in the middle of Brownwood where the packed, sun-baked mud and dirt are an illusion created with decorative-concrete methods and materials, and the footprints of horses, cattle, turkeys, dogs and "cowboys," along with the tracks of wagon wheels, are the result of stamping techniques.
And right over there is the Barnstorm Theater. Edwards stained the cinema's concrete floor a rusty brown and gave it a matte finish with a polishing treatment that employed a twist on typical diamond-grinding methods.
As you enter the town center's shops, you'll be walking on wood-plank porches made, again, not out of wood but of concrete.
And the sidewalks appear to have taken a beating from Florida's brutal sun. They've been given a distressed treatment and colored to give the impression of age and exposure to the elements.
It's all the work of Edwards Concrete, a diversified decorative-concrete business based in Winter Garden, Fla.
The past and the future
At Paddock Square, one can almost hear the crack of the cowboy's whip as he drives the cows to town.
That's actually one theory of where the term "cracker" comes from, in case you city slickers didn't know.
"There was a whole culture in Florida, probably little known to the rest of the country, involving the cracker cowboy. It's a whole lot different than what we think of with the cowboys of the West," says Michael Pape, a landscape architect and planner who has provided thematic design concepts for The Villages — a sprawling residential and mixed-use community that has been growing for a quarter century in central Florida.
Earlier parts of The Villages were built around town-center themes — "Spanish Springs" and "Lake Sumter Landing" — that also reflect chapters of Florida's past.
Pape says Brownwood will fuel the continuing growth of The Villages. The retirement-oriented residential community currently boasts some 86,000 homes, plus golf courses, shops, entertainment, recreational activities, shopping and dining, and other attractions. At build-out in 2017, it will include 2.7 million square feet of commercial space and a population of more than 109,000 (up from roughly 8,000 in 2000). A 2008 Census Bureau report ranked The Villages as the fastest-growing metropolitan area in the United States.
"It's the nation's largest and most successful mixed-use community. It's really a phenomenon," Pape says.
Making tracks
In designing and building Brownwood, the owners — family-owned The Villages, Florida Inc. — set out to re-create a "cow town." Edwards Concrete did its part and then some.
At Paddock Square, Edwards placed integrally colored concrete, mixed at the cement plant using L. M. Scofield's Chromix Admixtures in a Westwood Brown color to get an earthy brown shade. Two Bomanite dry-shake color hardeners supplied by ChemSystems Inc. were applied to the newly placed concrete — a color called Moss Rock and a charcoal release agent.
Then the Edwards Concrete artisans went to work with creative stamping techniques, using horseshoes, "cowboy" footprints and all kinds of stamps. Edwards artisans molded their own stamping tools for some of the animal tracks on Paddock Square. Bomanite offers its own tools for making turkey and raccoon tracks.
The team hired a white dog to strut across the wet concrete after coating its paws with Body Double Release Cream from Smooth-On Inc. Installers strapped horse stamps onto their own feet. A Cracked Earth imprinting tool from Bomanite was employed to weather the faux dirt.
The work at Paddock Square showcases the creative ingenuity of Edwards Concrete's George Hultin, a superintendent with the company for 20 years. Hultin custom-fashioned the wagon-track imprints using two wheels and an axle, and he fashioned the cow hoof-prints with structural foam.
Pape gets worked up with the superlatives when he surveys Edwards Concrete's work in Paddock Square. "It's just the coolest, most fun thing," he says. "We directed them on how we wanted them to finish it, with impressions of leaves, pine needles, gravel, footprints, wagon tracks, and dog, horse, cow and wild-animal tracks. It's a really fun thing, as people discover these details. It's amazing how people are entertained by something done with concrete."
On top of all this, the job wasn't just about the looks, he adds. Performance issues such as slip resistance were especially important in light of the development's retirement-oriented population. "The challenge was creating this dried-mud appearance while still ensuring it's a walk-safe and well-drained surface," he adds.
Barnstorm Theater's polishing twist
Getting marquee billing at a major attraction in Brownwood — the eight-screen Barnstorm movie theater — is another star in the Edwards Concrete cast of decorative specialties: polished concrete. Here, to get the color and finish sought by the owners, Edwards Concrete used a combination of acid stain and diamond grinding, with a twist.
"They wanted a matte look, so what we did was polish to a 1,500 diamond, then went back down to 400," Edwards said.
Specifically, Edwards Concrete proceeded with a conventional methodology, progressively using 40-, 80-, 100-,150- and 200-grit diamonds, then applying the stain — Bomanite colors of Rust Red and Auburn — and then moving on to the 400 and 800 diamond polishing steps, followed by application of RetroPlate 99, a sodium silicate densifier from Advanced Floor Products LLC.
Then came the matte twist: polishing with 1,500 grit, but then reversing course with tooling at the 800 and 400 grit levels, respectively. RetroGuard silicate-copolymer sealer was applied as a final step.
Distressed sidewalks and faux wood
Other techniques from the Edwards Concrete repertoire are on display in the Brownwood town center, including sidewalks and the 1800s-style wood-plank porches of business establishments.
Well, they look like old planks at least. Use of dry-shake color hardener in Moss Stain and release in Charcoal, both from Bomanite, followed by stamping with a wood-plank impression from Bomanite delivered the appropriate aesthetic.
Pape, the designer for the project, notes that using real wood for the plank porches would present durability and longevity issues in Florida's subtropical climate.
For sidewalks, Edwards Concrete employed a gray surface retarder to render the worn, weather-beaten look.
"We wanted the downtown to look like a small town that had been there for more than 100 years," Pape says, "and most of the sidewalks are done in a finish we refer to as aged or distressed concrete. From my perspective as a designer, this was very important in that we wanted this to look like it had been there awhile."
Edwards' veteran all-star team
Edwards Concrete owner David Edwards gives credit to his highly experienced, veteran crew, including concrete superintendents Hultin (20 years with the company, as mentioned earlier), Alex "Roho" Waters (30 years), Jesus Rivera (about 20 years) and polishing division chief Shawn Ciccarello (five years). All are overseen by operations manager Ronald Hart (20 years).
"Decorative concrete is all we do. That surprises a lot of people," Edwards says.
The company has survived, and thrived, with an exclusive focus on decorative thanks to its commitment to its highly skilled personnel even in times of economic challenges, Edwards says.
Its location also helps, he says. "I've been around colored concrete since the 1970s, we're located in the center of the theme-park area, and we built a reputation here in the state of Florida."
The seasoned crew will be spending more time in The Villages in the future. The entire project described here, large as it is, is only Edwards' part of Phase I. The development is planning Phase II, which will bring more retail to Brownwood, and Edwards will once again be taking on sidewalks and porches, if not more.
Project at a Glance
Client: The Villages, Florida Inc., Sumter County, Florida
Decorative Concrete Contractor: Edwards Concrete, Winter Garden, Fla. | www.edwardsbomanite.com
Designer: Michael Pape & Associates PA, Ocala, Fla. | www.mpala.net
Brownwood Architect: Larry Krietemeyer, KP Studio Architect PA, Ocala, Fla. | www.kpstudioarchitect.com
Overall Design Direction: The Villages Design Division, Tracy Mathews and Gary Mark
Construction General Contractor: McDonough Development Services, Tommy McDonough, The Villages
Tools and Materials Used: Bomanite Imprint tools, L. M. Scofield integral color, Bomanite color hardeners and release agent, Advanced Floor Products' RetroPlate 99 and RetroGuard
Got more questions about your project?