For years, residential and industrial designers have been using concrete stamps to decorate and add style to their projects. While the basic concept is not new, recent advances in technology have allowed stamp manufacturers to offer more diverse choices for their clients.
---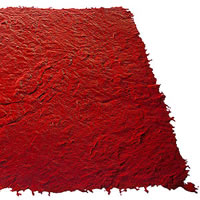 Brickform
"We are constantly innovating and improving on stamps and materials," says Harry Freis of Brickform, mentioning a recent upgrade of the polyurethane used for his company's stamps that allowed the tools to be tougher yet more flexible. "New patterns, new applications, and new materials comprise the reality and reputation of our stamping products."
Brickform offers a light stone texture with well-placed fractures, making it appealing for indoor and outdoor applications.
www.brickform.com
---
Proline Stamps
To further diversify their offerings, many concrete companies have been stamping their work with decorative designs that depict sunbursts or even animals.
"Our new stamp design is our new Seamless Texture design tools," says Larry Freeman, vice president of sales and marketing for Proline Concrete Tools. In 2008, Proline began offering a full line of "style" stamps, including such designs as a spiral sun and a jumping marlin. Each stamp will have what Freeman calls a hand-carved appearance.
www.prolinestamps.com
---
Matcrete
Speaking of hand-carved, Matcrete is now offering concrete stamps that look like wood. "We have a four-piece wood-grain stamp set we are making with Wayne Sellon of Tajmawall," says Matcrete's Kris Kaitanjian, noting that the details even include knots and cracks.
Matcrete's new wood-grain stamp set includes details such as knots and cracks that would occur in natural timber.
www.matcrete.com
---
L.M. Scofield
Another set of fabricated "natural" surfaces are the slates offered by L.M. Scofield Co.
"The unique thing about our new Pennsylvania Slate pattern is that it is a single-stone pattern that is made up of 16 different sizes of tool," says Scofield's Cam Villar, "and each size is available in (two textures) … so there are 32 tools available that can be arranged in a random and unique fashion for every project."
www.scofield.com
---
Kraft Tool Co.
Some companies are growing their line to simplify the process for contractors. "The main changes I have seen are the addition of more colors and larger stamps to save on labor," says Steve Cook of Kraft Tool Co.
Kraft's decorative texture mats leave a three-dimensional impression that includes details of the shape and texture of natural stone or brick.
www.krafttool.com
---
Butterfield Color
Another means of simplification is offered through Butterfield Color's new lines of stamp tools that allow contractors to install decorative borders without spending time and energy carving them by hand.
"Butterfield Color's real-life experience as installers allows us to produce tools that simplify the stamping process for contractors and respond to specific design requirements of the architect and landscape architect," says Butterfield owner Joe Garceau.
www.butterfieldcolor.com
| | | |
| --- | --- | --- |
| | | |
Got more questions about your project?