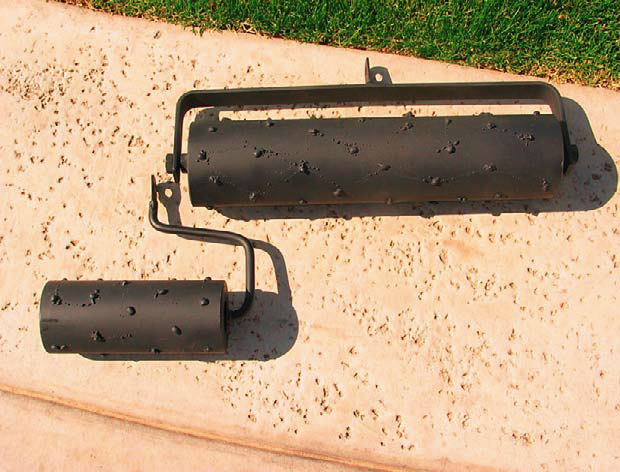 Tom Ralston, president of Tom Ralston Concrete, Santa Cruz, Calif., has a client who requested worn, craggy-looking concrete for his bathroom, fireplace and front porch. "He had a particular look in mind," Ralston says, "and it was an old slab, probably 30 years old, that was obviously poured by amateurs. Apparently on the day of the pour it rained on the slab as well."
To get the look, Ralston scattered rock salt here and there on the fresh pour, along with drops of retardant. After washing away the salt and retardant the next day and attacking the concrete with an acid-water solution and a wire brush, his team had the aged, corroded effect they wanted.
A rock-salt finish can give a slab a vintage feel even without any other weathering effects. Coarse rock salt is hand-broadcast into concrete just beginning to set, pressed in so about half the salt protrudes above the surface. It's left until the slab has cured enough to be walked on. Then the salt is washed or swept off, leaving behind small holes of different sizes and shapes.
This handcrafted technique has several difficulties. One is the challenge of achieving even coverage. Of course the randomness is part of its charm to a point, but it doesn't look natural if the pressure is too uneven, if there are big bare areas, or worse, if it looks like a bag of salt got spilled in one spot. Which leads to the second challenge – mistakes are almost impossible to correct. The salt cannot be rescattered and the surface retroweled.
Third, the process is quite labor-intensive and requires experienced workers. It is slow going, so the finish is most popular for smaller projects, such as pool decks, or for partial areas of larger decorative installations.
Even in small areas, texturing with embossing skins is a faster way to achieve a more uniform salt finish look than hand-broadcasting.
Like most stamped or textured concrete, rock salt finishes usually look best with colors in neutral earth tones, according to Cam Villar, director of marketing for L.M. Scofield Co.
Bob Zieger, artisan and president of Simple Solutions/Salt Roller Inc., a Chandler, Ariz., tool company, once bumped up against the limitations of rock salt when a large residential developer asked him to use it to texture the sidewalks, clubhouse patios and driveways of model homes. He had trouble with bare spots, and production was slow because he had to take people away from placing the concrete in order to spread the salt. He hit upon the idea of a roller with protrusions shaped like salt pellets. The client liked the result so much that the same technique was specified for another project.
With some improvements to the original ad hoc design, Zieger has come up with a durable, lightweight steel tool that can easily be used by one person to texture 1,600 square feet (20 cubic yards) in time to place a second pour in the same day. The roller requires no release agent, just periodic cleaning with water like any other finishing tool. Even though salt is a natural substance, it can wreak havoc with landscaping, so with no salt or finishing agent to wash off, the roller makes cleanup simpler and safer.
Between hand broadcasting, embossing skins and the Salt Roller, designers and contractors who want the antiqued, aged look that a rock salt finish gives to decorative concrete have more options now than when the first rock salt was spilled on the first concrete pour.
www.scofield.com
www.saltrollers.com
Got more questions about your project?