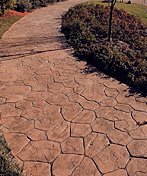 Here is a quick tip for stamping concrete and relieving surface tension to avoid cracking. Stamping concrete is a process of stretching the surface of the hardening concrete to create a unique indented pattern/texture on an otherwise flat surface. Because stamps impose significant stress on the surface, surface cracking often occurs.
In order to resolve this problem keep a small bucket of water nearby. Keep that along with a 3- to 7-inch (paint) roller with 1/2-inch nap on hand. Then, whenever these small cracks appear while stamping, take your wet roller and carefully moisten the crack with your roller. Doing this gives relief to the surface tension or the stress points and can in turn fix the crack.
— Steve VandeWater, Noblesville, Indiana
About Steve VandeWater
Steve VandeWater is a former decorative concrete contractor out of Noblesville, Indiana. He is the creator of the Indiana Decorative Concrete Network online at www.indecorativeconcrete.com. He is currently the manager of decorative concrete and concrete accessories at Sagamore Ready Mix in Fishers, Indiana. You can also check out some of his other articles on ConcreteDecor.net by visiting his author page.
Read more articles by Steve VandeWater
Got more questions about your project?