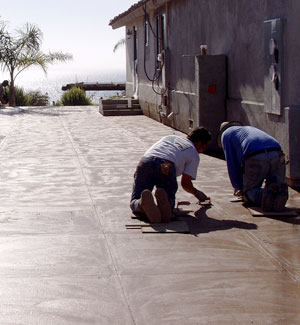 Decorative concrete contractor Tom Ralston has probably never met you, but even so, he suspects you're waiting too long before cutting your control joints. "Saw-cutting concrete is usually done long after the concrete has been poured or has set up," he says. "It's kind of like locking the gate after the horse has left."
If you saw-cut the way most contractors do it, you do it at the end of the day, Ralston says. That can be a problem, because concrete can start to crack about six to eight hours after it's poured. "There are likely microscopic cracks by the time you can walk out with a saw," he says.
The decorative concrete veteran has invented a solution: a set of two hand-carvers he calls the Saw-Cut Joint Tool.
Sold by Pacific Palette Concrete Products Inc., a company of which Ralston is president, the set is comprised of a 30-inch two-handled chisel and a 6-inch jointer tool. The chisel goes into the concrete first and is slid back and forth by a worker who keeps the side of the tool aligned against a screed and the groove flush with a string line. The chisel cuts 1 1/4 inch into a slab.
The jointer tool follows with its 3/8-inch blade, cleaning up the cut and resmoothing the surface of the concrete. When used together, the two tools leave behind a line that is "perfectly clean," Ralston says. "Saw cuts tend to fray."
Saw cuts can also make a mess. They can throw dust all over a job site, and even if water is used to control the dust, cleanup can be messy. Even the wheels of a cutting machine can leave marks on a fresh slab. Neither problem occurs when someone on kneeboards uses Ralston's tools to hand-carve a straight line into wet concrete. Workers may be able to get onto the concrete to cut joints three hours, even two hours after pouring, Ralston says.
Ralston is manufacturing the Saw-Cut Joint Tool system himself. As of World of Concrete 2008, he had stocked about 50 prototypes, all made from brass. The next batch will be stainless steel, he says.
(831) 457-4566
www.pacificpalette.com
Got more questions about your project?