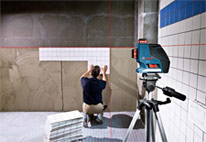 Bosch Measuring Tools – GLL2-80
The new GLL2-80 from Bosch Measuring Tools offers a 360-degree dual-plane line laser.
Bosch's GLL2-80 is capable of projecting constant lines on both vertical and horizontal planes, ideal for alignment and leveling applications when installing cabinets, floor and wall tiling, drop ceilings, interior framing, decorative finish and trim work and more. For specific applications, the GLL2-80 quickly switches between dual-plane, vertical-only and horizontal-only modes, providing best-in-class flexibility for the user. The heart of the GLL2-80's innovation is Bosch's Cone Mirror Technology, which reflects a laser beam to project bright laser "chalk lines" in 360 degrees rather than using a motor to rotate the beam. By reducing the number of moving parts, Bosch is able to produce a laser layout tool that is more compact, lighter, easier to calibrate and simpler to use overall.
Once leveled, the GLL2-80 is accurate to within 1/4 inch over its 100-foot range. To work in bright light or to cover longer distances (up to 265 feet), the GLL2-80 can be switched to Pulse Laser Receiver Mode and can be used in conjunction with the optional LR2 Laser Receiver for even greater flexibility
(877) 267-2499
www.boschtools.com
---
Lignomat – Ligno-DuoTec BW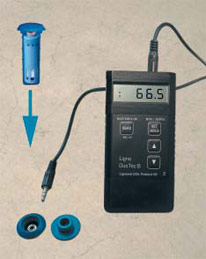 The Ligno-DuoTec BW moisture meter can measure moisture in concrete using two different methods. The first method uses Ligno-DuoTec BW as a pinless meter. The sensing pads at the back of the meter are pressed against the surface and the meter indicates moisture close to the surface. The second method uses the Ligno-DuoTec BW as a relative humidity and temperature meter. After drilling a hole and inserting the hole liner, an RH probe is inserted. Evaporation from the concrete slab is measured at a depth level of 40 percent of the slab thickness.
(800) 227-2105
www.lignomat.com
---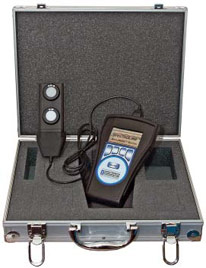 Spectronics Corp. – Spectroline AccuMAX XRP-3000
Spectronics Corp. has introduced the Spectroline AccuMAX XRP-3000 digital radiometer/photometer. The XRP-3000 uses a dualwavelength sensor detector to measure ultra violet and visible light.
This microprocessor controlled meter features auto matic zeroing, integration and signal hold. It provides standard UV intensity data as well as readouts of visible irradiance in various units, and it is capable of accurately measuring a wide variety of NDT light sources. The LCD readout features plus or minus 0.2 percent linearity. The unit provides better cosine response than current generation radiometers.
The AccuMAX features a sealed sensor housing and USB cable connection with a water-resistant adapter. A special self-sealing ring on the housing helps eliminate light leakage. The sensor detector can be coupled directly to the unit or connected via the included USB cable for greater versatility. In addition to the dual UV/visible light sensor, a luminance sensor is available for technicians performing radiographic examinations.
The XRP-3000's rugged housing is equipped with a rubber protective boot for better grip and to prevent breakage if dropped. A slide-out panel allows easy replacement of the unit's 9-volt batteries.
(800) 274-8888
www.spectroline.com
---
TQC – Dust Test Kit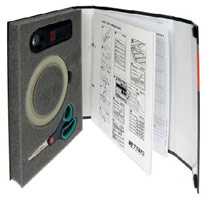 For inspection pretreatment quality during protective coating jobs, TQC has developed the SP3200 dust test kit.
The ergonomic test kit is designed to assess the quantity and size of dust particles on blast-cleaned surfaces. An adhesive tape is applied under specified conditions onto the blasted surface, picking up any residue of dust or blasting media when removed. The kit contains all tools required to perform the test, such as specified adhesive tape, a pictorial standard to define dust quantity and size, an illuminated magnifier, scissors, a tape-transfer sheet and a set of report forms for permanent record-keeping of sample findings.
Since these tests have to be made on-site in often harsh conditions, the kit has been designed so that all separate items fit inside a case and are secured in place when not in use. The report forms also offer ways to note other relevant parameters during pretreatment inspection, such as condensation and dew point, roughness, salt contamination and visual cleanliness.
(800) 762-2478
www.gardco.com
---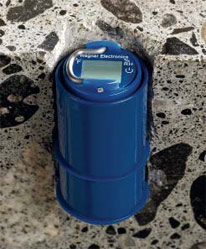 Wagner Electronics – Rapid RH
The Rapid RH sensor tool offers a fast, accurate moisture test for concrete slabs. It makes relative humidity testing for concrete slabs faster, simpler and more precise.
The Rapid RH is 10 times faster than traditional testers, providing rapid initial readings with instantaneous additional readings, and it is easy to install and use. It includes a certificate of calibration, and no ongoing calibration is required. In addition, it can be fit beneath the surface of concrete and does not impact ongoing construction.
www.rapidrh.com
www.wagnermeters.com
Got more questions about your project?