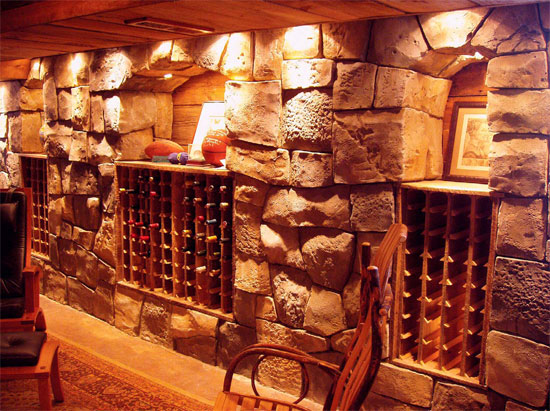 It seems there is only one direction for the decorative concrete industry to go — up. Contractors and designers are finding new opportunities in vertical overlays. "Walls are the next frontier," explains David Landrey, technical director of manufacturer Raeco Specialty Cements. "There is a better chance of a decorative system lasting on a wall. A wall doesn't get traffic, so your artistry doesn't get damaged."
Wayne Sellon, national trainer for Flex-C-Ment, thinks vertical overlays present a growth opportunity. "Construction is feast or famine, but this is different," he says. "We're right at the cutting edge, educating people who don't know it's an option. We're always finding something new to do. Interest in vertical decorative concrete keeps growing and growing and growing and growing."
Why is the market for vertical overlays strong these days? Nathan Giffin, founder of Chicago contracting firm Creative Rock Forming, believes demand is tied to a growing interest in themed environments. "Listening to homeowners and other contractors, they are moving in the direction of artificial environments, competing against cultured stone and rock veneer," he says.
Whatever the reason, good decorative concrete contractors already know some things that are important to success in the vertical market. First on the list is good communication with the customer. "The number one key in construction is communication," explains Wes Vollmer, artisan and founder of Alternative Finishes, based in San Antonio. "Make sure the contractor and the eyes looking at the job are on the same page. If they don't like it, it doesn't matter how well you did it." Samples, mock-ups and sign-offs with designers and owners are as important for vertical applications as they are for floors and patios.
Successful contractors also know the value of training and practice. Vertical overlays present significant value-added opportunities precisely because they are so visible. So contractors looking to move up to vertical overlays take advantage of training offered by manufacturers, suppliers and consultants. Vollmer falls into the latter category. "When I started 15 years ago, no one wanted to help. Everyone had secrets. Now I consult everywhere, even in my own area, to build the industry. A bad job hurts everyone." Giffin is taking training high-tech with a new venture, Vertical Artisans, bringing demonstrations and vertical techniques to the Internet.
Spraying vertical overlays
Part of making a transition from horizontal to vertical concrete work is learning the difference between applying overlays by sprayer and by hand trowel.
Most experts agree that the decision to spray or trowel depends largely on economics. Spraying is a good way to cover large areas in a short amount of time. It's fast and productive. "The advantage of spraying is time," says Vollmer. "You can cover three times the area you can with a hawk and trowel in the same amount of time."
"The thing you are looking for by spraying is production," Sellon says. "Pumps can make sense in terms of dollars and cents if the job is big enough, say 20,000 square feet."
On the other hand, smaller areas give a contractor some options. "If you are doing, say, a fireplace, you are not going to prep for a sprayer — there's not enough area there to bother," Giffin says.
Sheer volume is also not the only economic consideration. "How big of a mess can you get away with making?" Sellon asks. "Pumps are great for new construction because overspray doesn't matter. For an existing building you have to cover the landscaping and carefully mask other areas. I would stay away from spraying in an existing home or building."
Greg Price, director of sales and marketing for FossilCrete, believes that spraying is a good way to break into vertical applications. "Until people used to working on horizontal surfaces can master a technique that defies gravity, they may do better with a pneumatic application, a shotcrete spray rig or regular hopper gun. There are lots of decorative concrete contractors who are extremely talented and skilled, but everything they had done is horizontal. So when they get into vertical, most skilled folks struggle to trowel on vertically. The muscles you use in vertical are quite different than for flatwork. It's a totally different motion — it takes seasoning."
The contour of the underlying surface is also a factor in the decision of whether to spray or trowel, Price adds. For example, FossilCrete makes a log-cabin-style foam form. "You would have to hand-trowel all day to get a uniform thickness over a contoured form like this one," he says.
Is spraying less creative? Not necessarily. One technique for vertical finishing is stamping, and in these cases, the stamp allows for creativity. Price cites examples of customers in Hawaii who used native plants, shells, lava and other artifacts to create uniquely textured stamps. Giffin, who specializes in hand-cutting stone-like finishes, says that spraying offers an advantage because it has the capability to put up large amounts of material (4 inches and more) which can then be formed and colored by hand.
Vollmer thinks spraying lends itself to a certain look. "If someone wants on old-world, distressed style, then spray works well. In fact, the more imperfections the better."
Besides masking and cleanup, spraying presents some equipment challenges. "The initial cost of using spray techniques to enter the vertical market can be high because of the cost of equipment, but it pays off in the long run in terms of productivity," Giffin says.
Sellon sees another downside of spray equipment. "If the pump breaks down, your whole crew is idle," he says. "Pumps are an animal all their own. If the mix is too dry it plugs up. And watch for ambient conditions. If you've got a black hose in the hot sun you've got to keep the pump running or the mix will set up in the hose and you'll have to throw it away. I've used a lot of pumps, and I'm here to tell you I would only spray in a situation where I had enough square footage to make it worthwhile and a big enough crew to keep up with it."
Troweling
Troweling is where the concrete world meets the plaster world, Landrey says. "Trowel techniques come from the concrete industry and from the plaster industry. Each world has hundreds of years of experience, and it's all converging on the decorative concrete wall. Blades, spatulas, mortarboards — everything's being tried. I mean everything."
This experimentation extends to the variety of possible finished looks. Giffin specializes in creating three-dimensional artificial stone environments. In these cases, he says, vertical overlays have the advantage over stone because they are not limited to preexisting shapes. In fact, he often uses a shovel to apply the mix to the wall and then shapes it by hand.
Vollmer enjoys recreating the look of lath and plaster. He tells the story of overhearing a restaurant owner complain about the look of the painted sheetrock in his establishment's renovation. He wanted to match the existing plaster, but the cost was prohibitive, especially since the sheetrock was already in place. Vollmer volunteered to help. "I went back to my own office, cut a sample out of my own wall, and took it back and everyone bought into it. I matched the real lath and plaster and both were stained with the same acid stain — no one can tell the difference."
Landrey picks up on the plastering theme. He likes the look of a burnished finish where trowel lines are rubbed out with a damp sponge during the first hour after application and the surface is sanded with an orbital or palm sander between one and three hours after final set.
One key advantage of troweling is controllability. "For smaller projects turnaround is faster and cleaner," Giffin says. This is also why Sellon prefers troweling for interior projects, especially in existing buildings. "You have so much more control by hand," he says.
While equipment cost is minimal, the expense of troweling lies in the labor. Because it takes longer to apply vertical overlay materials by hand, that added labor expense must be accounted for. Planning ahead helps keeps estimates accurate and expenses in line. "It all has to do with laying out the job," Sellon says.
One or the other — or both
The decision of whether to spray or trowel vertical overlays often boils down to economics. Are there sufficient economies of scale to make the investment in spray equipment and the time spent on masking, preparation and cleanup pay off? The desired finished look is also a major factor.
But vertical overlays don't always require an either-or decision. Where conditions allow, many contractors find that spraying on the initial coat and then troweling on the finish coat or hand-finishing the sprayed-on topcoat bring together the advantages of both systems. Even overlays that are stamped can be improved with hand finishing. "There are more things you can do," Giffin says. "Molds look great, but emphasis on coloring and attention to detail adds realism."
"The object is to make the end project look good and make two people happy — the client and the contractor," Vollmer concludes.
Got more questions about your project?