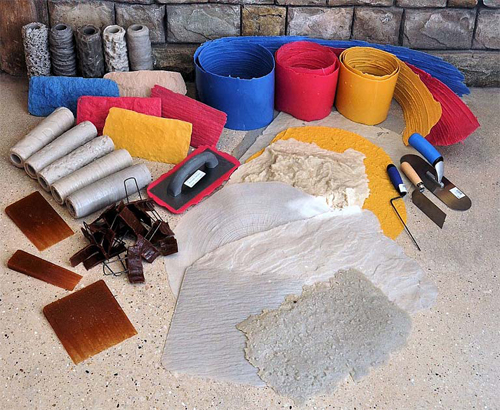 As demand for vertical concrete work in the residential sector expands, more decorative concrete contractors and artisans are taking on vertical projects with the goal of achieving creative looks.
Because vertical decorative concrete projects often feature unique textures, shapes and colors, concrete contractors often spend a significant amount of time making their own tools, as the number of tools specifically designed for vertical work is small.
Realizing the demand, Walt Tools began offering the Tru-Tex Complete Contractor's Kit for Vertical Concrete in spring 2009.
The vertical kit allows concrete contractors to achieve a variety of textures and looks in conjuction with hand carving. Until now, says Don Ciesielski, sales manager for Walt Tools, many of the artisans had to make their own tools for each particular effect. "The industry itself, vertical concrete, is in its infancy. This kit meets demand and eliminates the need to purchase tools individually," says Ciesielski.
Since being introduced, the kit has been expanded regularly. Today, it is offered in two sizes. The basic vertical kit sells for $500 and includes four rollers sleeves, four vertical skins, and four "trowels," which are small skins with handles. The trowels are used for spaces and corners the larger skins can't cover or reach.
The full kit contains more than 50 pieces and is sold for $969. Not bad considering the cost of other texturing tools, Ciesielski claims. "For a set of stamps you might pay $500 or $600 for one look." Included in the full kit are 10 roller sleeves, 10 vertical skins, eight trowels, 12 three-way jointers, and Walt Tools' Original Wedge Set.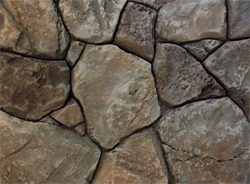 Also included in the full kit is a weatherwood end-grain skin, which creates the surface look of a tree stump after it's been cut and its rings can be seen, and three weatherwood vertical skins, which can portray a realistic rugged wood grain.
Three different trowels are featured in the kit, including a margin trowel, a 1/4-inch flexible trowel for touch-up work around edges and in corners larger trowels can't reach, and a 10-inch flexible steel pool trowel, which features a rounded blade that makes it easier for a contractor to avoid gouging or edging the trowel into wet concrete.
Some of the tools create multiple lines if pushed into the concrete, saving a contractor from having to individually draw each line. "If you have all the skins and textures you're unlimited (in what you can do)," says Jody Smith, owner of Summerville, S.C.-based Overlay Solutions. "You have so many different varieties of textures and ways you can initiate something for a vertical wall."
Smith also uses his kit for work on fountains and doors. "I wouldn't step on a vertical job without it," says Randy Klassen, owner of Winnipeg-based Klassen Concrete, who specializes in decorative, conceptual concrete work. "This system gives you a lot of variation in texture and a lot of the right tools to achieve creative and natural-looking work."
Klassen purchased the kit a year ago and says the buy has already represented a net cost savings.
Prior to its release the kit was used and reviewed by Nathan Giffin, owner of Vertical Artisans, a Web site that provides methods and techniques associated with vertical hand carving. "We ran a lot of testing through him (Giffin)," Ciesielski says. "He came to us and presented the wedge idea that we created."
The kit is sold by Walt Tools online and by distributors in Minnesota, Texas and the East and West Coasts.
Smaller kits portraying specific looks are also available.
www.walttools.com
Got more questions about your project?