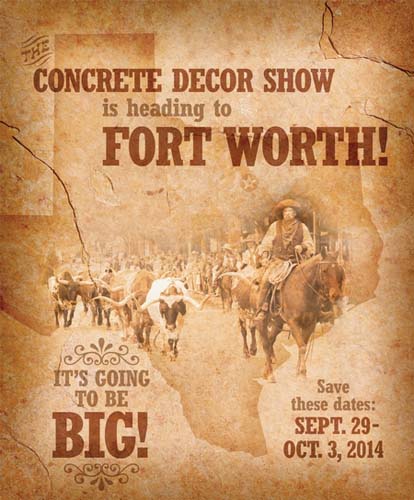 Professional Trade Publications has announced that the 2014 Concrete Decor Show, the premier trade event focused on the decorative concrete industry, will move to the fall. The event will take place Sept. 29 through Oct. 3, 2014, at the Fort Worth Convention Center in Fort Worth, Texas.
"The fall time frame provides distance from multiple springtime industry events, offering attendees and exhibitors a unique opportunity to get trained on techniques and new products just before the busy spring and summer seasons," says Bent Mikkelsen, CEO of Professional Trade Publications and Owner/Promoter of Concrete Decor Show.
The Concrete Decor Show is the premier concrete construction trade event for professionals, contractors and artisans specializing in the creative, utilitarian and business aspects decorative concrete for both residential and light construction markets. The educational conference and trade show has experienced significant growth over the past five years, drawing more than 3,000 decorative and concrete contractors, business owners, manufacturers, artisans and trade media for education, business development and networking. The show is designed around educating contractors on the latest techniques and products, as well as expanding their concrete skills to help grow their business in a friendly, fun environment – all at one time, in one place.
"The industry reaction to the new fall timeframe has been overwhelmingly positive and we anticipate continued exhibitor and attendee growth year-over-year as the demand for decorative concrete innovation and expansion continues to increase," continued Mikkelsen.
The selection of the Fort Worth Convention Center allows Concrete Decor Show attendees the added advantage of hundreds of local food, shopping and entertainment options in the area. The Convention Center is also in close proximity to Dallas/Fort Worth International Airport for easy travel.
Each year, thousands of masonry and concrete contractors and professionals attend the Concrete Decor Show to learn new decorative techniques from industry leaders and skilled artisans, expand their concrete skills, build new relationships to grow their business, and experience new products and solutions from major manufacturers.
Got more questions about your project?