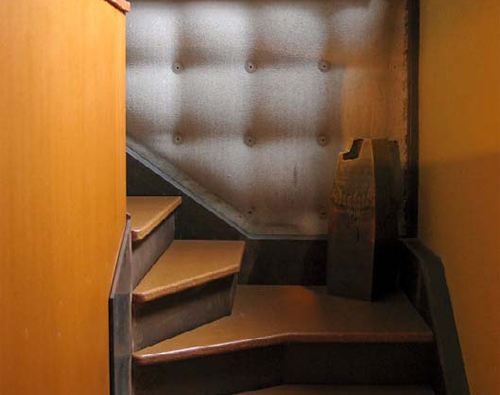 Green, clean, relatively inexpensive and incredibly practical, fabric formwork can be used with concrete to produce structurally efficient and architecturally compelling components in all shapes and sizes, ranging from footings, columns and beams to walls, sinks, furniture and an array of accessories.
"It's allowed us to create masonry architecture using very simple skills," says Sandy Lawton, owner of ArroDesign, a design/build construction company in Waitsfield, Vt. With a background in carpentry, Lawton says, he found rigid formwork complicated and labor intensive. "Fabric formwork has given us the freedom to do complicated structural work in a very different way that's not complicated at all. That's the bigger advantage. There's a lot more flexibility with this system."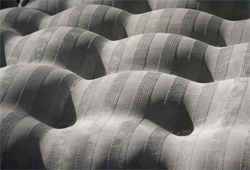 Fabric formwork also has benefits from a sustainable viewpoint, Lawton says. "Fabric formwork basically reduces the amount of everything required to construct something – placement, storage and even building the forms. There are huge savings every step of the way."
Also, he points out, depending on the type of fabric you use for the formwork, you can get a really nice finish. "You don't have to go behind and refinish." Instead of using rigid forms made from lumber, plywood, cardboard, steel or aluminum, fabric forms use a flexible textile membrane to form concrete in place. Wet concrete is poured into a tensile membrane, which produces efficient structural curves and extraordinary surface finishes.
The shape is determined by how the material is restricted. This can happen in a number of ways, from creatively using form ties to make "buttonholes" to placing a brick under a fabric form to make a relief. A row of 2-by-4s with fabric in between each piece of wood can form a lattice wall with a pattern of minor bulges.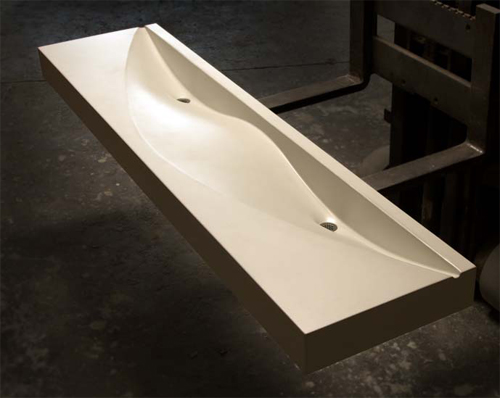 A brief history
According to the International Society of Fabric Forming, the first practical applications for fabric formwork were introduced in the mid-1960s for erosion control and to line ponds, although there are several patents for 19th- and early 20th-century fabric forms. In the 1970s, the Spanish architect Miguel Fisac used thin plastic sheets as formwork for textured wall panels.
In the late 1980s and early 1990s, three men, each on his own, invented a variety of techniques for fabric-forming aboveground structures.
Kenzo Unno, a Japanese architect in Tokyo, invented a fabric formwork system for in situ cast concrete walls.
Rick Fearn, a builder and businessman in Canada, invented a number of fabric formwork techniques. This led him to develop a series of foundation footing and column products now manufactured and sold by Fab-Form Industries in Surrey, British Columbia, Canada. He is president of the company.
Mark West – an artist, architectural educator and builder who is now the director of the Centre for Architectural Structures and Technology at the University of Manitoba's Faculty of Architecture in Winnipeg – invented a series of techniques for constructing fabric-formed walls, beams, columns, slabs and panels. CAST is the first research center dedicated to fabric formwork technology and education.
Visualizing the end result
"Fabric is so much more efficient than plywood (for forms), but the industry is slow to change," says Fearn. "It's staggering how long it takes to get new ideas into the marketplace."
He thinks the biggest stumbling block to fabric formwork's acceptance is that many contractors cannot picture the end result before they start. "(Unlike rigid formwork), it's just a loose piece of fabric. What you get is not what you see."
To help contractors visualize an end product, Fearn has a computer program that predicts the shapes fabric forms will produce. He's hoping that as more contractors accept computer-generated virtual-reality scenarios, fabric formwork will grow in use. "Fabric is a tension membrane," Fearn says. "If you use a different fabric, it will give you a different texture, but the shape will be the same."
Also, some fabrics aren't coated, so they let excess water bleed out, he notes. This can make fabric-formed concrete products stronger than those made with traditional lumber forms.
In a world where resources are dwindling, he notes, fabric forms, like the ones he sells for columns, just make good sense. Fast-Tubes, made from high-strength polyethylene, come in 120-foot rolls that easily fit behind the seat of a truck and can be cut to any length with minimal waste.
"They're such a green product, so efficient. They take up 1 percent of the space cardboard does and they are 1/10 the weight." Plus, unlike cardboard, there is no waste to be hauled to the landfill after the column forms are trimmed to size or when the forms are stripped. "Fast-Tubes can be put under a slab after they are stripped. They act as a moisture protector."
Besides allowing contractors to form sturdy columns of varying lengths – Lawton used Fast-Tubes to make 29-foot columns for a treehouse he built in Vermont – Fearn's fabric-formed columns can be easily decorated by simply tying ropes or putting bands around the forms while the concrete is still wet.
| | |
| --- | --- |
| | The form is temporarily braced with 2-by-4s and strips in seconds. The columns' decorative flourishes are created by tying ropes or bands around |
Flexible fabric vs. hardened forms
While Fearn's fabric forms use flexible fabric that allows the weight of the concrete to dictate the final form, Brandon Gore of Gore Design Co. in Tempe, Ariz., prefers to use fabric and fabric hardeners to create a precise mold that can be used many times over. He primarily uses these forms for high-end custom sinks, but he says he's currently working on integrating fabric-formed structural walls into his new studio space.
"Using fabric as the mold is very conducive to concrete, the high-end decorative sector in particular," Gore says. "Having this skill set opens up a world of design possibilities that would not be obtainable using any other method."
Gore uses fabric to form concrete in two ways. He either stretches the fabric over a frame he has made or he lets the fabric flow freely through framework openings. "At this point you can cast the concrete, or you harden the fabric and fine-tune the design into a specific shape, then cast the concrete," Gore says.Fabric forms can be used with all types of concrete, he says, including glass-fiber reinforced concrete and traditional wet-cast concrete with steel reinforcement. The concrete can be colored, contain aggregate, be highly plasticized for an ultra-smooth finish or even include inlays. "Fabric forming is at the forefront of concrete, and much is being learned every day," Gore says. He recommends practicing on multiple pieces to understand the process and to learn how to properly harness the forces created by concrete when it's used in this fashion.
"Fabric-form shapes are impossible to render in advanced computer design programs," he adds, "and I have even been told by a designer that these shapes 'are completely impossible to create – they do not exist. I showed him photos of my fabric forms, and he revised his statement to, 'These shapes are impossible to create using a computer,' which which I concurred."
To help novices and experienced concrete artisans alike learn about fabric-forming using the hardened-fabric method, Gore has put together a 38-minute DVD that covers all the steps, tools and materials required to build a custom fabric-formed sink mold. The DVD can be purchased at ConcreteApothecary.com.
On-the-job training
Besides being used for high-end pieces, fabric formwork has also found its niche in Third World projects. In 2007 and 2008, for example, Kyle Bergman, a New Yorker and owner of architectural firm Bergman Design Team, of Warren, Vt., teamed up with ArroDesign's Lawton to build community projects in the rural area of El Rincon and the Pomier Caves Anthropological Reserve in the Dominican Republic. The jobs involved fabric-formed concrete walls, benches and seating areas.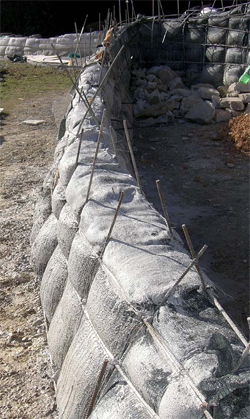 On each trip, the two led groups of architectural students on an 18-day adventure offered through Yestermorrow, a design/build school headquartered in Vermont. The school's mission is to inspire people to create a more sustainable world by providing hands-on education that integrates design and craft as an interactive process. During the trip, students design the project on-site and then build it.
Bergman, whose experience with fabric-formed concrete is limited to what he learned on these trips, says it made perfect sense to use fabric forms and rebar in an area where wood was scarce. "Fabric is a very forgiving material, and the walls and benches we created were very sculptural in nature," he says. "We used rebar to hold the fabric in place. Once it was stripped away, we were left with curvaceous, undulating walls."
Bergman admits that fabric formwork is not as uniform as standard formwork. "We had to create some structure to gives us the appearance of what we wanted, but in the same breath it gave us a lot of design freedom. It's really an exciting medium," he says. As for fabric formwork's limitations, "It's wide open. We haven't tested its limits yet."
For those interested in learning more about fabric forms, Yestermorrow, in conjunction with the Norwich University School of Architecture, will hold a weeklong workshop on the Yestermorrow campus in Vermont in June. Lawton will be one of the instructors, along with Mark West, who is currently on sabbatical.
concretely.blogspot.com
www.fabricforming.org
www.goredesignco.com
www.umanitoba.ca/cast_building
www.yestermorrow.org
Got more questions about your project?