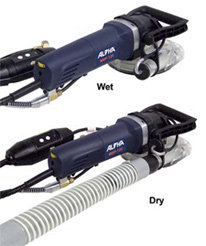 Alpha Professional Tools – New polishing products
Alpha Professional Tools has released three new products for the polishing contractor.
The Alpha WDP-120, a wet/dry variable-speed surface polisher, is designed for all decorative concrete applications, including edge polishing. The included Ecoguard attachment minimizes the amount of water splashed, and the in-line GFCI will provide safety and protection. A vacuum cleaner can also be attached to the Ecoguard for dry concrete floor polishing without creating dust. By removing the Ecoguard's front cover and attaching the magnetic plate, contractors can polish right up to the wall.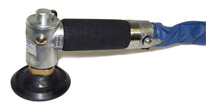 The Alpha AIR-300 is designed for unique applications that are difficult to accomplish using conventional polishers. A smaller version of the well-known Alpha AIR-658, the AIR-300 is ergonomically designed to fit comfortably in your hand and only weighs 1.6 pounds. The smaller design is easy to maneuver and produces flawless sink rims and bowls. The Alpha AIR-300 accepts 3-inch and 4-inch discs along with 2-inch and 3-inch rubber pads.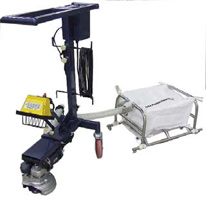 Finally, Alpha Ecogrinder Caddies allow operators to work standing, not on their knees, when grinding and sanding concrete, terrazzo and masonry products or doing surface preparation work. The height adjustment mechanism allows the caddy to be adjusted to accommodate individual users. The unit is available in two versions for both Ecogrinders Alpha offers. A halogen light shines above the grinding area to show scratches in dark areas.
www.alpha-tools.com
---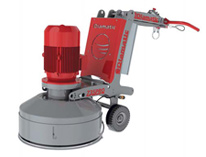 Diamatic – BMG-735PRO-R
The BMG-735PRO-R is part of Diamatic's new line of industrial-grade polishing and grinding machines that are manufactured for the demands of the professional surface preparation and decorative concrete flooring contractor.
The 735PRO, like others in the line, has the option of being used wet or dry. It is an excellent choice for grinding and polishing natural stone surfaces such as granite, marble or terrazzo, and is an ideal machine for both concrete preparation and polishing. The three-head planetary design features a separate drive system for the main drum and 9-inch planetary disks, allowing the 735PRO to produce a 28-inch wide grinding path.
The BMG-735PRO-R is powered by a 230/480-volt motor, producing up to 17 horsepower and featuring variable speed control, effectively delivering tooling speeds of 350 to 1,100 rpm.
(800) 256-3440
www.diamaticusa.com
---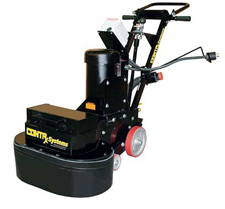 EDCO – CONTRx Systems
Dual-Disc Concrete Polisher
Equipment Development Company Inc. offers the CONTRx Systems Dual-Disc Concrete Polisher. The machine offers a 5-horsepower, 230-volt motor, four 40-pound removable weights, and a 23-inch working width. Benefits include easy operator control, a cord and vacuum hose holder, and a hand-crank surface leveling fork assembly for light grind, heavy grind, and transport modes. The polisher operates on its unique counterrotating, flex-head, disc assemblies, making it easy for anyone to handle as it glides across the concrete surface. CONTRx Systems is a complete system that includes a DVD how-to guide, diamond accessories, densifier and an applicator's kit.
(800) 638-3326
www.contrxsystems.com
---
Flex North America Inc – Polishers
Flex North America Inc. currently offers three products for the polishing industry.
The LCP 1703 VR is a planetary-gear, belt-driven unit powered by a 10-amp variable-speed flex motor. It is for use with 3-inch to 5-inch polishing pads and offers speeds of 1,100 to 3,400 rpm.
Flex has also developed the PLW 923 S Air Stone Sander/Polisher. The compact, lightweight design will get into tight spaces with ease, and allows for all-day operation with less operator fatigue. It features a central water feed with rear exhaust and accepts 3-inch, 4-inch, or 5-inch discs. It comes with a 4-inch Velcro pad, bail handle, side handle, wrenches, and hoses for air, water and exhaust along with appropriate fittings.
Finally, the LW 1503 is a wet polisher. Weighing just 4.4 pounds and with a 5-inch maximum disc, it still offers up to 3,700 rpm. It is frequently used to polish surfaces and edges, such as drain holes and countertop edges.
www.flexnorthamerica.com
---
HTC – Block Series
HTC Block Series tools have the look of metal bond diamond tooling but are, in fact, resin bond tools. A Block Series tool is an aggressive tool that not only cuts and performs like metal bond tools, but also has the same life expectancy. It also leaves a very smooth profile, unlike traditional metal bond tooling. A variety of sizes and grit options are available.
www.htc-floorsystems.com
---
Kut-Rite Manufacturing Co. – Conquer25
The Conquer25 planetary grinder/polisher from Kut-Rite Manufacturing Co. offers a dual-phase, 7.5-horsepower motor and has a 25-inch grinding path. It features the Magnetic Quick Disconnect Tooling System for fast and easy tool change. It also features the optional Vacuum Towing Package. This package eliminates cord and hose management, allowing the operator to focus on the floor ahead.
(877) 786-5067
www.kutritemfg.com
---
Superabrasive Inc – Lavina SPS line
Superabrasive Inc.'s Lavina SPS line includes three key polishing tools.
For concrete grinding and surface preparation, Superabrasive recommends metal bond plates for hard concrete and terrazzo bond plates for soft concrete. The plates are available in sizes of 7 inches and 9 inches, plus a variety of grit sizes for coarse, medium and fine grinding.
Nato resin-bond polishing discs are 3-inch Velcro-backed disks that are available in wet, dry and economy styles. Their wide channels and a unique design allow for work on a cleaner surface to ensure a quality polish.
V-Harr polishing pads are available in a wide variety of sizes and can be used under any planetary floor polisher. High-quality felt works between the resin segments to clean the floor, making V-Harr pads an ideal solution for concrete floor maintenance as well.
(800) 987-8403
www.superabrasive.com
Got more questions about your project?