CS Unitec – AirForce F4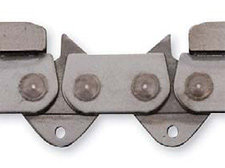 CS Unitec's new AirForce F4 diamond saw chains have large diamond segments laser-welded to a steel chassis for faster cutting of a wide variety of masonry materials, reducing kickback and damage that other percussive methods can cause. Additionally, this feature allows the user to plunge-cut up to 20 inches and make perfectly square corners with no overcuts.
These chains feature an internal water distribution system for better lubrication between bar and chain and have 50 percent greater tensile strength for reduced breakage and longer life. Three chain styles are available: AirForce Premium saw chains cut concrete with heavy steel reinforcement; AirForce Standard is a general-purpose diamond chain for reinforced concrete; and AirForce AbrasivePro is ideal for cutting soft, abrasive material. The 10-inch chain has 25 segments for maximum cutting depth of 10 inches. The 15-inch chain has 29 segments for maximum cutting depth of 15 inches.
www.csunitec.com
---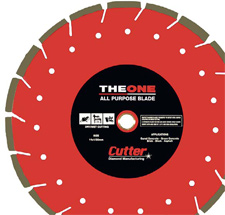 Cutter Diamond – One Blade
The One Blade is Cutter Diamond's premier all-purpose blade designed for cured concrete and green concrete.
The Blade can be used on high-speed saws and floor saws of up to 20 horsepower. Available sizes are 12 inches, 14 inches, 16 inches, 18 inches and 20 inches.
(866) 816-8074
www.cutterdiamond.com
---
Diamond Tec Inc. – V-Series Diamond Crack Chasers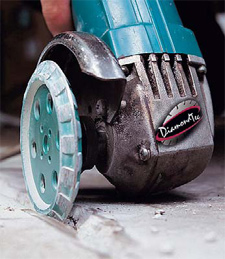 V-Series Diamond Crack Chasers from Diamond Tec Inc. provide fast and efficient cutting of random cracks in concrete for repair purposes. The resulting V groove is the ideal joint size for the application of epoxy.
A heat-sintered bonding process innovated by Diamond Tec enables V-Series Crack Chasers to deliver longer tool life even while the tools are used for dry-cutting through hard concrete and epoxy-coated applications.
V-Series Diamond Crack Chasers are available with 3 1/2-inch, 4-inch, 4 1/2-inch, 5-inch, 7-inch and 8-inch diameters and 3/8-inch and 1/2-inch thicknesses.
www.diamondtecblades.com
---
Flex North America Inc – MS 1706 FR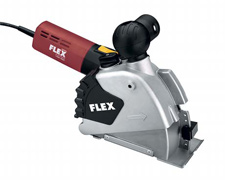 The rotating-motor system in the MS 1706 FR from Flex North America Inc. allows the machine to be used in pull cutting for vertical slots and push cutting for horizontal slots. It can cut two parallel slits up to 35 mm deep and 30 mm wide.
Other key features include adjustable cutting depth and toolless blade changing and slit width adjustment.
When combined with the Flex S 36 M vacuum cleaner, the MS 1706 FR gives optimal dust protection for the user even when plunge cutting.
www.flexnorthamerica.com
---
Husqvarna Construction Products – ProEdge V-Line and Radius Line blades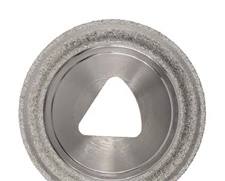 The Husqvarna ProEdge V-Line and Radius Line blades bevel the cut, allowing for straighter joint lines, higher production and reduced labor versus using hand tools.
These blades are ideal for residential and commercial applications, including driveways, sidewalks, hardscapes, patios, pool decks, parking garages and commercial site work. With the Soff-Cut system, the ProEdge blades and saw models 390, 50, 150 and 150D saws can be used to chase standard joints for a beveled look the day after ultra-early-entry dry-cut control joints are cut.
www.husqvarna.com
---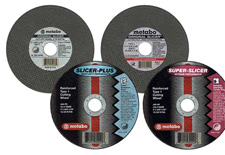 Metabo Corp. – Choice Cuts line
Metabo Corp. now offers its expanded Choice Cuts line of thin cutting wheels matched to specific applications. The Choice Cuts line features four wheel types with a wider selection of job-matched premium abrasive grains and engineered resin-bond formulas to provide optimum cutting speeds and wheel life.
Ideal for cutting steel and ferrous-metal materials such as smaller-diameter rods, rebar and angle iron, the economical Original Slicer cutting wheels are 0.040-inch thick. These aluminum oxide wheels, billed as the industry's fastest cutting wheels, have the flexibility necessary for flush cutting.
Slicer-Plus high-performance cutting wheels are 0.045-inch thick with the ability to perform aggressive, cool cutting on all metals. Specially-coated aluminum oxide blended grains and a proprietary resin bond create wheels ideal for the toughest applications, including thicker sectional cuts in steel, stainless steel, heavy rebar, harder metals, heavy wall pipe and angle iron. Also available is the 1/16-inch LongLife Original Slicer and the Super-Slicers, at 0.045 inch.
All wheels in the Choice Cuts line are available in sizes of 4 1/2 inches by 7/8 inch and 6 inches by 7/8 inch. Both the Original Slicer and Slicer-Plus are available in Type 1 and Type 27 versions, while the Super-Slicer is offered as a Type 1 cutting wheel. Each features two full layers of high-strength fiberglass for added user safety.
www.metabousa.com
---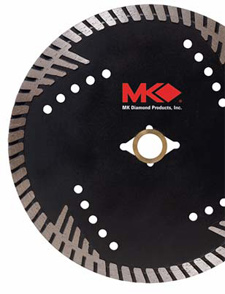 MK Diamond Products Inc. – MKS-935D
The MKS-935D continuous-rim diamond blade from MK Diamond Products Inc. has been engineered to cut hard concrete and masonry materials. The V-slant segments provide additional side clearance to prevent binding in the cut and protect the steel core during circular cutting.
MKS-935D is also designed for cutting stone and other hard materials. It is available in diameters ranging from 4 inches to 14 inches.
(800) 421-5830
www.mkdiamond.com
---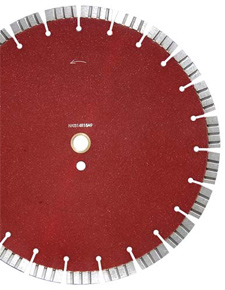 National Diamond – T-SEG 15 Signature Diamond Blade
The T-SEG 15 Signature diamond blade from National Diamond is made to cut hard surfaces such as cured concrete, reinforced concrete, rigid concrete pipe, refractory brick and similar hard materials.
The blade features high-quality thermo-grade synthetic diamonds, the correct balance of metals with diamonds in the matrix and double-laser-welded 15-mm-high segments. The double-tensioned blade is built with a mixture of chromium, molybdenum, steel and cobalt alloy. The T-SEG15 is available in 12-inch, 14-inch, 16-inch, 18-inch and 20-inch diameters.
www.national-diamond.com
---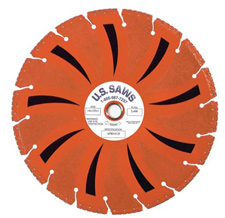 U.S. Saws – Tiger Tooth
U.S. Saws' Tiger Tooth super-grit diamond blade is an ideal blade for joint clean-out and removal of polyurea from joints.
Polyurea typically causes conventional blades to load up and quickly become ineffective. The fast-cutting Tiger Tooth diamond blade with its air-cooled laser-welded segments has been proven to eliminate this problem.
(866) 987-7297
www.ussaws.com
---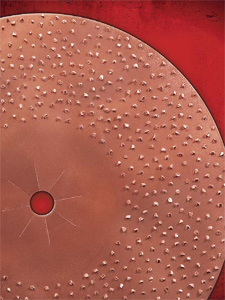 Virginia Abrasives – Tungsten Carbide Abrasive Disc
Virginia Abrasives' new Tungsten Carbide Abrasive Disc is tough enough to tackle just about any concrete cleanup application. It grinds through paint, carpet and tile adhesive, epoxy coatings and carpet padding, and removes gummy coatings from all concrete surfaces.
Because the disc mounts to a rubber-faced sandpaper drive plate on a 17-rpm, 1 1/2-horsepower buffer with existing hardware, a simple switch-out creates a serious grinder. In addition, the disc is two-sided and cleanable.
(800) 446-1805
www.virginiaabrasives.com
Got more questions about your project?